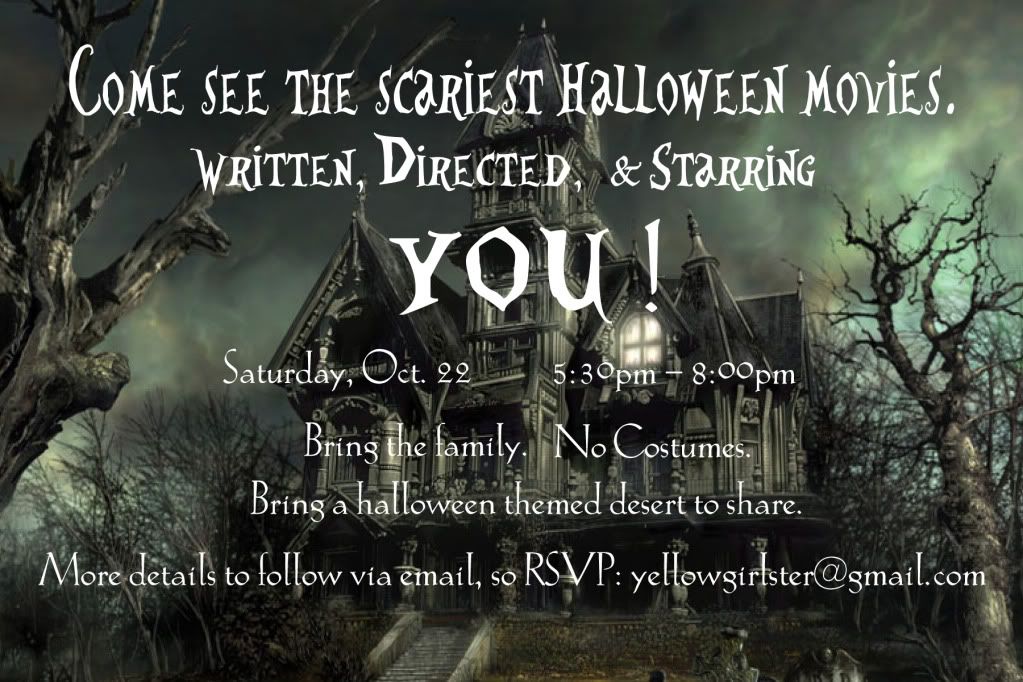 We had a Halloween Party at our house last weekend. We invited a bunch of families and made Halloween Movies.
Ben and I collected random items and costumes that we had to use for the movies. Ben created titles and story starters for the movies. Titles like, "Children of the Candy Corn", "Nursery Rhyme" and "September 19th- A Pirates Revenge."
We split the group of about 40 people into 3 groups. They had a choice between 2 movie titles to choose from. From there they got to choose props and costumes from the random stash that we had-which was a ton!
Next, Ben gave them each a bag with some more random props. These had to be used in the movie somehow. The other rule was that everyone had to be in the movie at one point.
We had about 45 minutes to come up with a story and make a short 5 minute movie. Then we all met back at the house.
I made some light refreshments (didn't get a picture!) and had name cards like, "Mummy Dogs", "Haunted Cheese Ball", "Freaky Fruit Dip" and so on. It looked cuter all together. Anyways, while everyone was getting something to eat, Ben got the movies ready to show.
We set up blankets and chairs outside and watched the movies projected on the back of our house. I thought it was going to be a cold night, but it was absolutely beautiful. No one even needed jackets!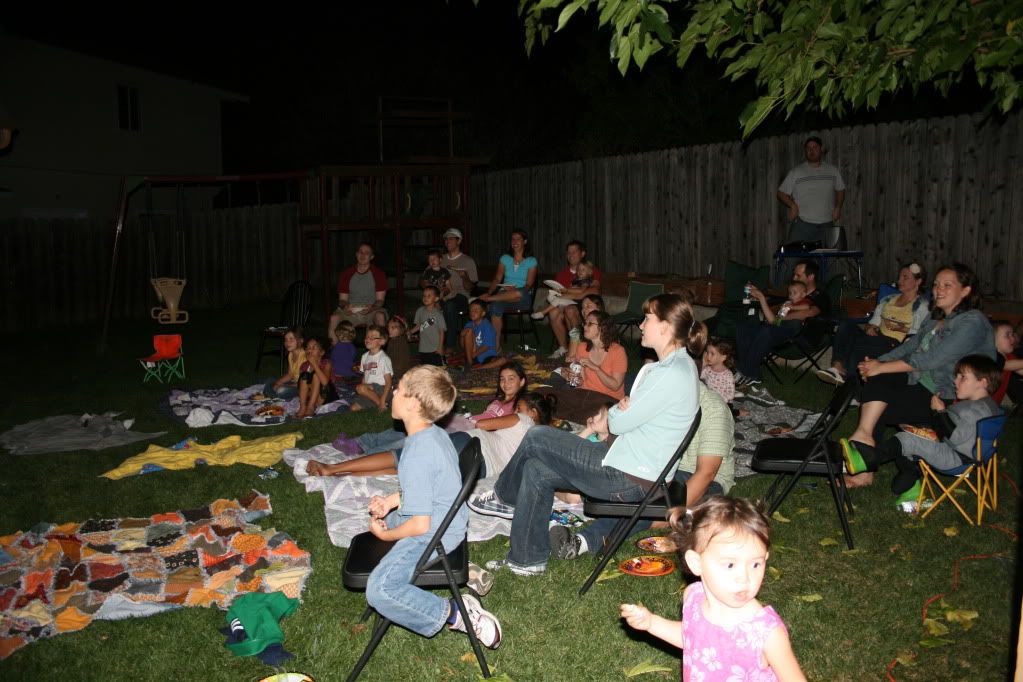 The movies were hilarious! It was so fun to see what they came up with. We handed out awards and prizes for the movies and then had a dessert feast.
We asked everyone to bring a creative Halloween themed dessert. We also had card for them to name their dessert. Everyone was so clever!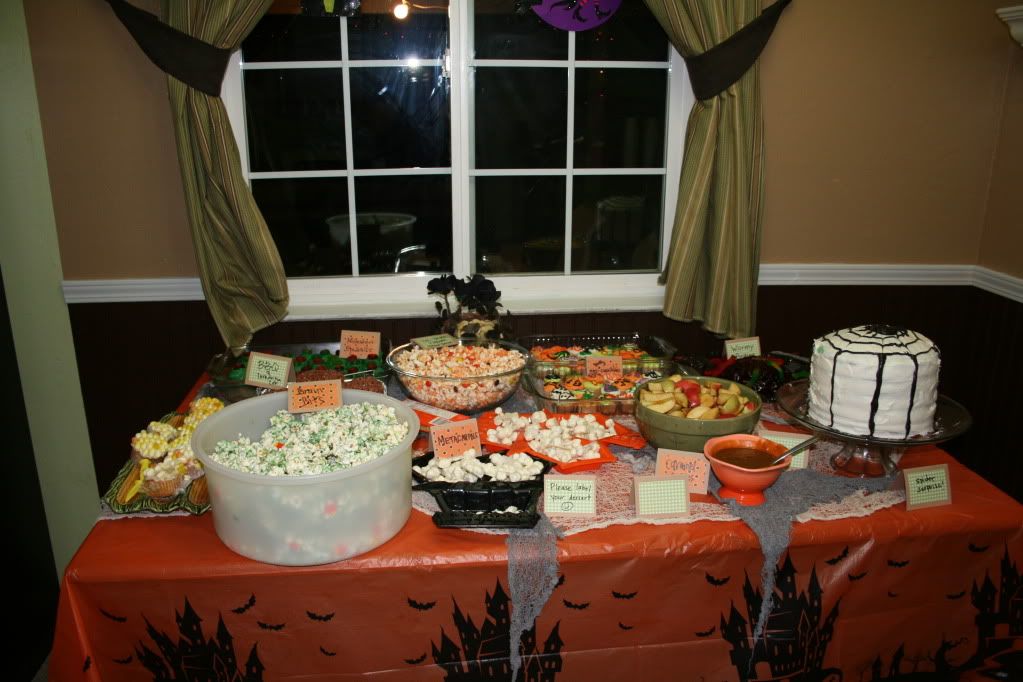 We made some "Monster Eyeballs" from the left over chocolate I had from Ben's birthday cake balls. Ben also made his brain jello. I didn't get a good picture because it got gobbled up so quickly. This year Ben decided to make his brain jello look less real-you know minus the blood oozing off the brain. That was the key, because everyone ate it.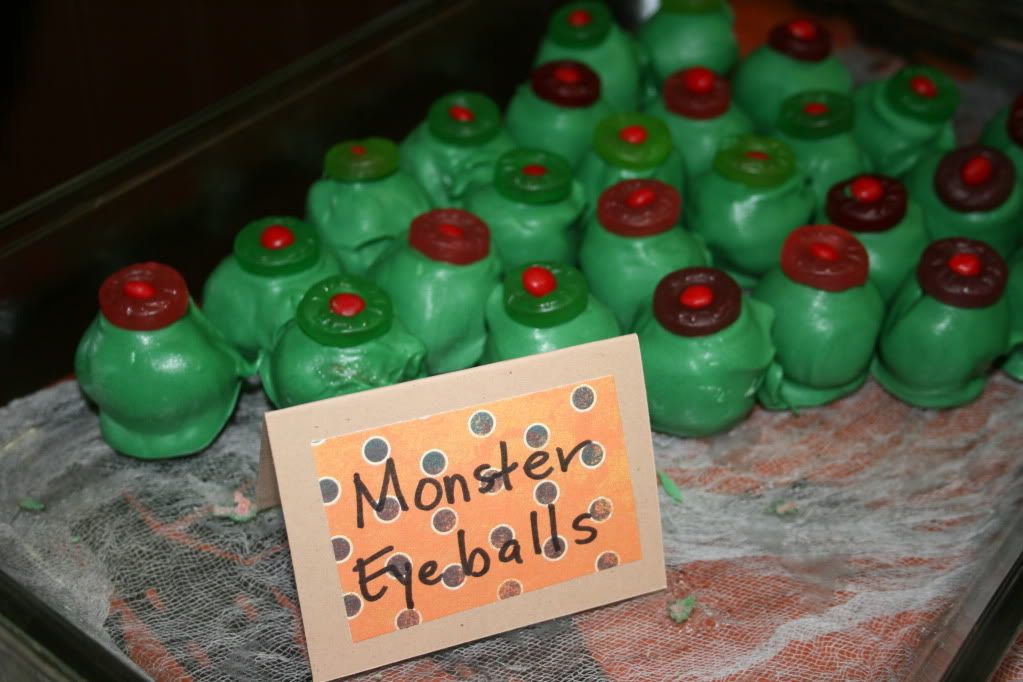 Here are some of the others: