This past weekend, Ben and I just finished up on the Stake Roadshow. We were asked around Christmas time last year if we would head it up. I was excited but wasn't sure how Ben felt about it. Turns out, he was really interested in that kind of thing! Ben and I actually worked perfectly together and we made a pretty awesome team! I was worried we would argue, but it was quite the opposite, we worked very smoothly together.
Towards the beginning of January, we had a meeting with all of the ward specialist. There were 7 wards involved. Two of the wards combined so we had a total of 5 productions. Each production had a couple or more as their ward specialists. The ward specialist were in charge of their ward's production. Ben and I were just over the ward specialist. We still had a ton of work to do organizing it all. Ben was great because he had done a Roadshow before and I hadn't. He had also done plays in highschool and I didn't do that either. So he had lots of knowledge when it came to stage stuff. In fact, we split up the duties where he was the technical, sound and prop man and I was the manager sending emails, booking the building, and coordinating everything else. Ben came up with the idea, "Movie Mashup" which basically was combining the movie elements of one movie and mashing them with the movie elements of another.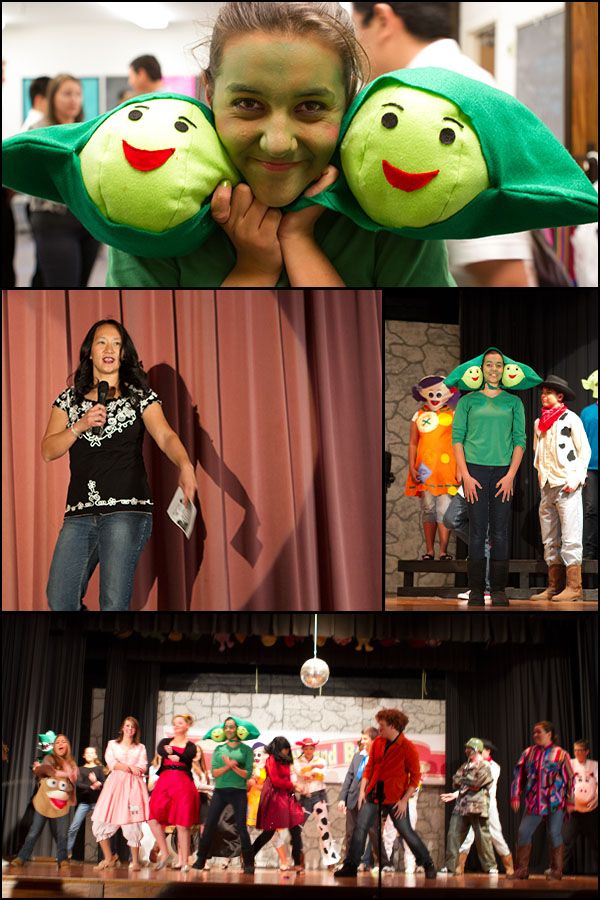 I had a great idea to kick-off the Roadshow with Ben and I performing something fun. I told Ben that I wanted to do a rap and he wasn't too excited about that, but he did it anyways because he loves me. So I made up a rap to the song, "Ice, Ice, Baby". I called it, "Roadshow Baby". We traveled to each ward and Ben and I were given a few minutes. I was dressed in my dress jacket and I pretended to warm up as if I were going to sing a lovely song. Then I took my jacket off and I had a giant baseball jersey on. I put on a baseball hat and I made myself a giant CTR bling neckless. Ben made visuals and held them up while I rapped. I think the kids loved it! I told Ben it was a good idea because if they saw us having fun and being goofy, it would make it easier for them to do the same. I called myself the, "Asian Rapper."
We went to practices and videotaped them because I thought it would be fun to make a music video to show at the end. Kids love seeing themselves on a big screen. We also bought all the materials and Ben made plans for the shared risers they would all use and we also bought the paint for the backdrops. Everyone was only given less than 3 months to put everything together. That was creating the story, music and dance. Getting costumes and making scenery and props. It was a lot of work for all of the wards. We encouraged them to use the members in their ward.
This past weekend, we had the performances on two nights. I was completely amazed at what was accomplished in just a few short months. I hope the kids had alot of fun because Ben and I did! One thing about being over an event, you don't get to work with the youth and I miss that aspect. It's always good to hear from others what the kids are thinking and if they are having fun. It's Monday and I am still kinda recuperating from this weekend. Church was hard yesterday because I did not have much energy!
The crazy part is that Ben and I were talking about the next Roadshow and what we would do differently and what the theme should be and so on just the day after. . .! I think we may have jinxed ourselves!