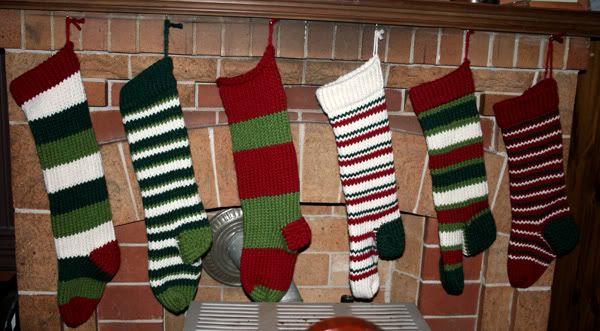 Phew, I finally finished all of my stockings! It took me awhile since all I have been wanting to do in my free time is sleep. I made one even for Baby X so next year, I will already be ready.
We've asked Santa to come early so we can get to Utah on Christmas. I'm kinda nervous about the weather and hope we will have a smooth ride. We are excited to see all of Ben's family-he's got a big one!
I really miss my family and wish that we were closer to them. I think we may try to save up next year and make our way to Michigan! We hope you all have a very Merry Christmas!
WHAT"S GOING ON WITH THE PORTER KIDS?
CJ-Is taking piano lessons from her Dad. Since going to Auburn to visit her cousins, we've noticed CJ's interest in music. Ben's giving her lessons to see how interested she is and then maybe we have her take piano lessons.
MIA-Loves writing letters "all day morning". The other day she was writing in a little book and she says, "I have to write in my Diarehha (diary)".
XANDER-Is the only true Korean in our household. Ben bought a giant container of Kim Chee and him and Xander are the only ones who will eat it.