YOU CAN SKIP DOWN TO SEE PICS OF WHAT WE DID ON OUR ANNIVERSARY. I HAD TOO MUCH FUN REMINISCING.

8 years, 5 months ago. . .
My friend invites me to her work party at Lagoon. I meet Ben for the first time. He is sent there with specific instructions to check me out for his friend, whom I'm supposed to be set up with the following week. Ben has another girl from Kentucky, who likes Ben right away and follows him around the entire time. I invite him to my house for a game night with other friends. He brings CJ. I notice what a good Dad he is and how his daughter adores him.
8 years ,4months and 3 weeks ago. . .
I go on a blind date set up by my same friend that I went to the work party with. Ben is there with another date. Ben's date doesn't talk to him the entire time. I adopt him and have 2 dates that night. I tell my friend after, that I like Ben better and that she should tell him to ask me out.
8 years, 4 months and 2 weeks ago. . .
Ben still hasn't called me, so I take matters into my own hands and email him. Turns out he was out of town with a friend. We email back and forth. I learn alot about him. He invites my friend and I to hang out at his place. I somehow end up with his sister's neckless. I come by the next day to return it, but he's asleep. Bummer.
I invite him to come to my classroom. He teaches an art lesson to my first graders. We hang out again and I play him in basketball (I played basketball alot at that time and really liked guys who played sports) I beat him. I decide I still like him.
8 years, 4 months ago. . .
I plan a trip to the Grand Canyon. I invite Ben. I also invite two other guys who I find out later like me too. We have fun. I choose Ben to ride home with. He holds my hand. When we get back, he asks me on a date, officially.
8 years, 3 months and 3 weeks ago. . .
He calls me his stalker. I go on a double date with Ben and his friends from work. We kiss for the first time. He says I kissed him. I say, he kissed me. He just says that because, it goes along with his stalker theory.
8 years, 3 months and 2 weeks ago. . .
I'm invited to go with Ben and his family to his grandmother's cabin in Cascade. His mom calls me Ben's girlfriend. His grandmother introduces me as his fiance. After the trip, we decide I can be his girlfriend.
8 years, 3 months and 1 week ago. . .
Ben says, What do you think?" I tell him, "I think I could marry you." Ben doesn't run away and I surprise myself for saying that.
8 years, 3 months ago. . .
Ben gives me a promise ring. I watch CJ while I am off track (in year long teaching terms, that's time off). I like hanging out with her. Ben and I get engaged. We drive 26 hours to Michigan with CJ so my parents can meet him. They treat CJ like their granddaughter.
8 years, 2months ago. . .
We plan our wedding in 3 months. I drive people crazy.
8 years ago. . .
Ben and I get married by his grandfather in the Bountiful Temple. CJ is the miniature bride and is so cute. I feel lucky that I found Ben and convinced him to marry me.
FAST FORWARD. . .
Let me just tell you, that dating Ben was the easiest relationship because we were so open with each other and told each other what we thought instead of making the other person guess. We saved alot of time. Also, when it's right, things just work out.
This year, my mom flew into town and watched our kids so we could go out for our anniversary. Ben and I went to see Wicked in San Francisco.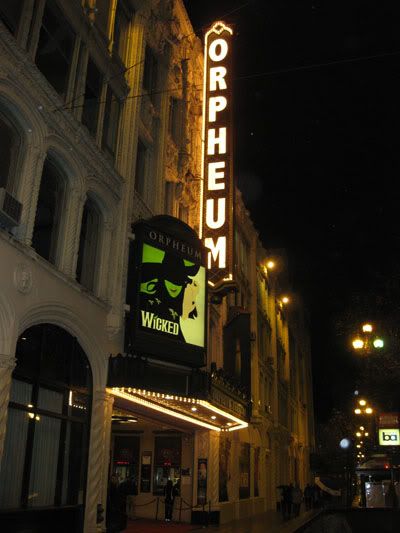 We ate at a very delicious Mediterranean place beforehand. I'm convinced that the smaller and dumpier a place looks, the better the food. Their food is so good, why spend money on the surroundings?
People will come.
If you make delicious food, people will come.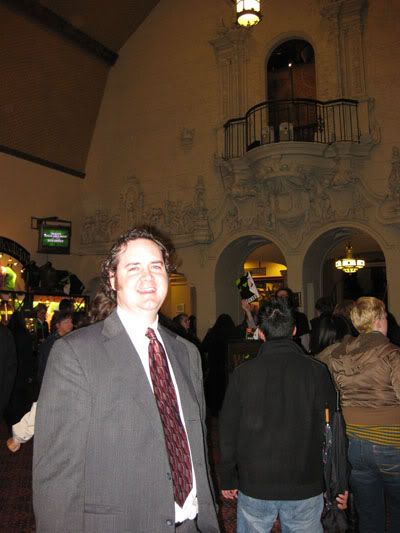 The show was amazing and we loved the songs and story. I loved the personality of each of the characters and how the story connected with the Wizard of Oz one.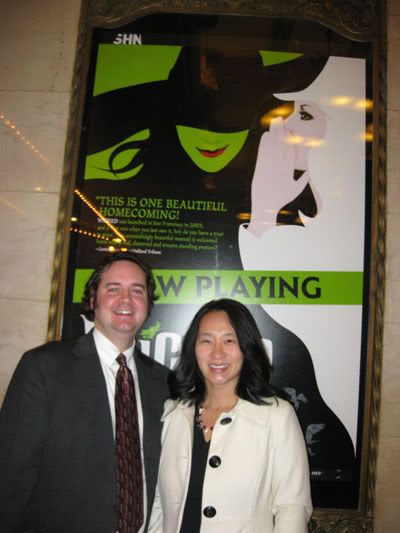 We had a great time!
8 years down, only an eternity to go!