Mia came home with a flier about a race that was being held on the Saturday (which is uncommon here) before Halloween. I was needing some motivation, so I signed up for the 10K. I also noticed that they were having a 1K Kid Fun Run too. Mia runs everywhere. If we are on a walk, she has to run the entire way. So I asked Mia if she wanted to run in a race with me. She was excited.
We went on a practice run one time before the race. I wanted to show her the distance she would be running. I had to take the little ones with me. Mia did not enjoy running and complained. I wondered if she was going back out of the race or if she was just not having a good day.
The day of the race came. I drove myself because my race was first and Ben was going to meet me there towards the end of my race. My race was great, I think mostly due to the part that I ran with someone the entire way! Her and I were going the same pace and I thought about passing her, but I didn't want to wear myself out, especially at the beginning of the race. I just started chatting with her and we ended up talking and running the whole time.
She was a great motivator and I finished with a time of 57 minutes. I was happy because my goal was to finish in a hour. Forgive the cheesy smile. Why I smiled like that, I don't know. I invited my new friend, Vanessa to come and play indoor soccer with me next week at the church.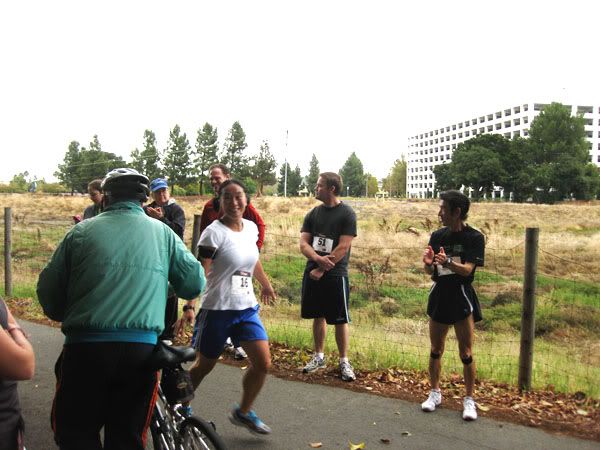 I had about an hour before Mia's race. This race, costumes were encouraged. Mia dressed up as a ballerina and my friend Emily, made me a tutu to wear. She made it to match my shoes. Thank you Emily!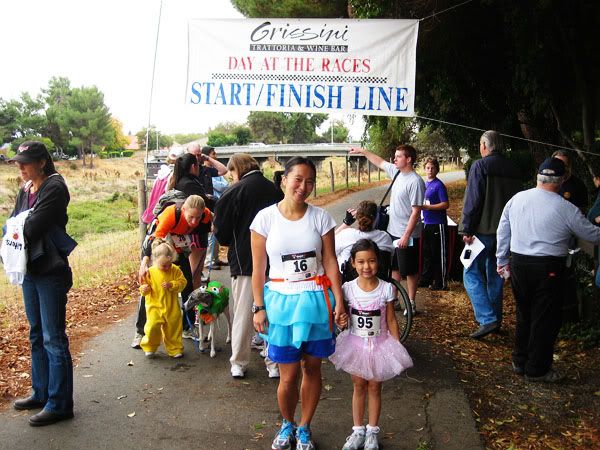 Mia was so excited to run she kept asking me when it was time. The person who was supposed to blow the horn was having problems. I think Ben started the race. He yelled "Go" and everyone took off.
I ran with Mia to help motivate her. She was awesome. She ran so fast and had to stop a couple of times and then just sprinted off. There was only one boy and his Mom in front of us. I told her, don't let anyone pass you!


Mia was the first girl to pass the finish line and received a trophy for first place for ages 6-12. She was so excited. When we were waiting in line for the lunch they served us after, Mia said, "Is this a dream? I can't believe this is real." People kept taking pictures of her and one lady told Mia that she was going to make Mia famous with the picture she had just taken. Mia was on cloud nine and kept talking about how everyone was congratulating her.
I was so proud of Mia and that she did her best. When we got home, I was so touched that her big sister CJ wasn't jealous but proud of her little sister. I overheard her bragging to a friend who was visiting, that her sister got first place in a race.