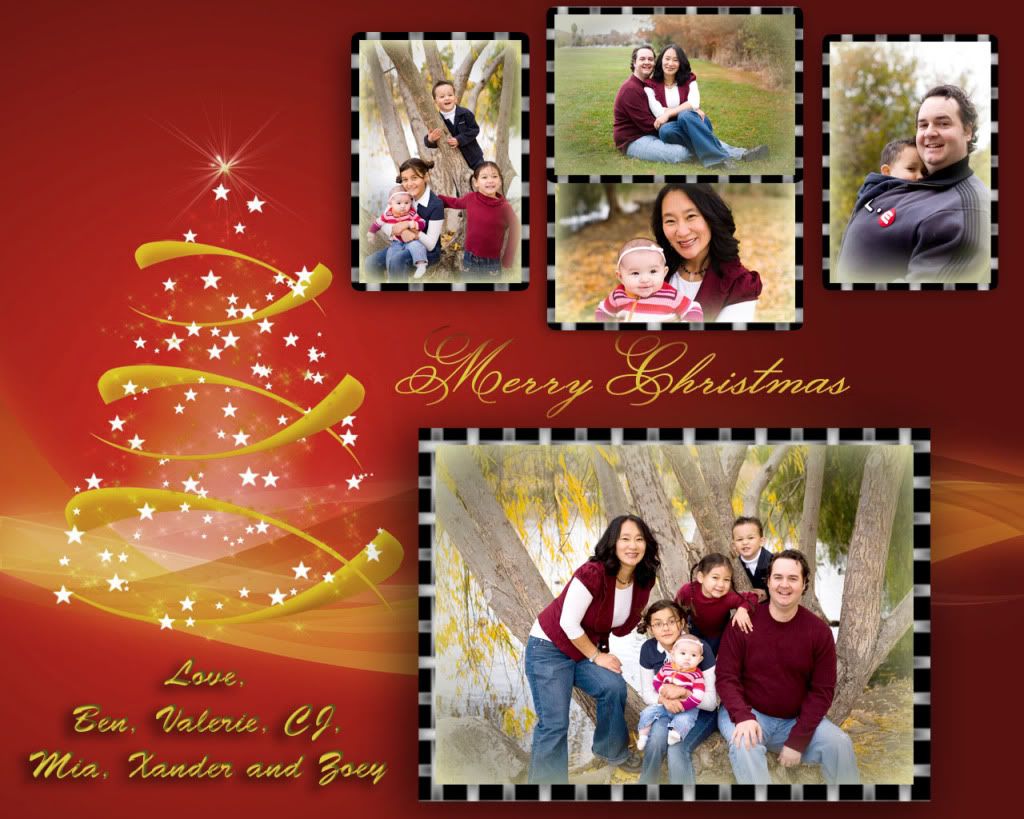 Just in case I missed anyone through email and Facebook, this ones for you!
In effort to save money, not trees, I won't be sending Christmas Cards this year. But know this, you are all worth more than the 74 cents (44 cents postage, 30 cents for the card) I would have paid to send it. Who can put a price on friendship?
Oh the weather outside is raining
But really, who is complaining?
And in Concord there is no snow
Grass to mow! Grass to mow! Grass to mow!
It doesn't get better than this year
And we've bought a house, let's cheer
The kids are turned way up high
OH MY! OH MY! OH MY!
We discovered new places in Cali
How we loved Tilden Park and Monterey
We also went to Lake Chabot
And let's not forget Half Moon Bay.
The littlest one, our Zoey
Born the fourth of July no jokey
Our four kids we love, don't you know?
It shows! It shows! It shows!
We've had a wonderful year! Here are some highlights:
Ben

receiving an Emmy for the student film he produced while at BYU.
Zoey

being born a week late on the fourth of July at 10 1bs. 11 oz.
Family visiting
Disneyland with BYU friends
Discovering places in California
Mia

starting Kindergarten
Xander

being potty trained
CJ

being in 5th grade at her 5th school
Valerie

destroying/losing 2 cell phones
(I know exciting, but that's all I could think of)
We hope you have a very Merry Christmas
Love,
The Porters

P.S. After writing this, I woke up to snow. Just a little. Probably enough to make 1 snow ball, but snow nonetheless. I guess it snows in Concord. Should've done my homework.