Ben and I liked to do fun activities for our anniversary. We try to do things we normally don't do all the time. Like, one year we went sledding, and another we went to the production, "Wicked". This year we decided we wanted to go iceskating. It's been probably 10 years since we have gone. I really wanted to go to San Francisco to go iceskating but unfortuately, here in California, those outdoor skating rings close at the beginning of January.
Luckily, we found some indoor skating rinks. We ended up going to the one in Oakland.
At first Ben and I stayed towards the edge. I couldn't believe how hard it was. It seriously felt like it took me 1/2 hour just to go around once. Plus, the iceskates that you rent, were horrible in the ankle. After awhile, Ben and I got better. Not triple axel better, just "I think I'll move more towards the center of the rink" better.
In fact, check out Ben being all fancy. . .
My ankles only lasted about an hour and a half before they were crying in pain. Almost after each lap I would make, I'd take a timeout in the hockey booth to give my ankles a little break.
Afterwards, we headed to Jack London Square where we ate at "The Fat Lady". Historically, a brothel, now a delicious place to eat. We heard that they go all out with decorations for each holiday. I'd love to see what they do with the place for Valentines day.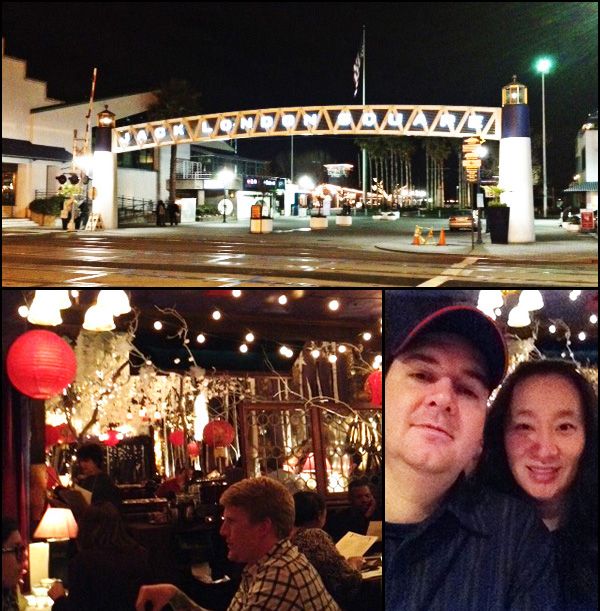 Speaking of Valentine's day, aka "Val-Day", Ben and I make things for each other. I've got a great gift that is already done. . .hmmmm. . .hope Ben hasn't forgotten.
Yeah, Ben, that was a reminder. . .better hurry T minus 6 days.