PUMPKIN BELLS
Dashing through the streets
In our costumes bright-hooray!
To each house we go
Laughing all the way.
Halloween is here,
Making spirits bright
What fun it is to trick-or treat
And sing pumpkin carols tonight!
Oh, Pumpkin bells! Pumpkin bells!
Ringing loud and clear,
Oh what fun Great Pumpkin brings
When Halloween is here!
Some people go Christmas caroling; we go Halloween caroling. How does one go Halloween Caroling you ask? Oh, I will tell you my friend.
STEP ONE:
Make Halloween Cookies. Use pink rolling pins. It's the only way to guarantee that your cookies will turn out.
Decorate them. Make a huge mess while doing it. Or if you are like Xander, lick and eat the decorations before you put them on your cookie.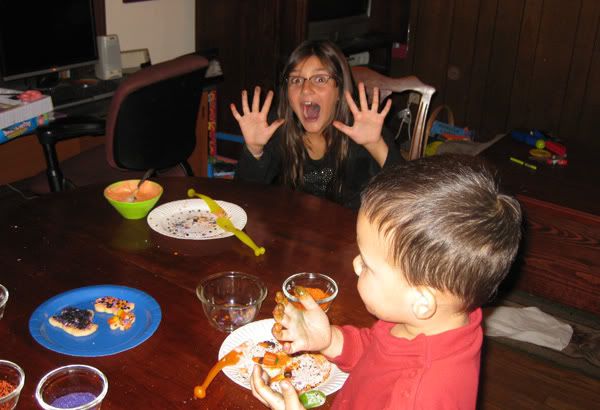 STEP TWO:
Be a little crazy. Dress up. Put on a crazy wig.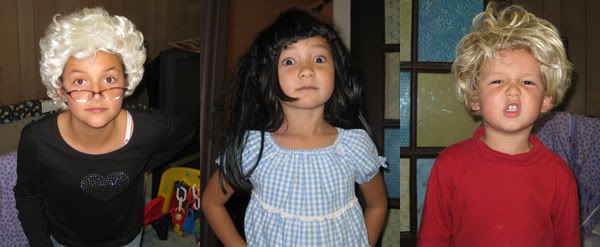 STEP THREE:
Choose some lucky people. Sing to them great carols of Halloween. Sing out of tune. Or if you are like Mia. Don't sing at all. Just turn around and show your huge butt because, really, that's the first thing any person wants to see when they open the door.
Can't really tell how big Mia's butt is? Here's a better picture.
STEP FOUR:
Take a picture. Why? Capture this moment on camera. Save it. Show your daughter's husbands and your son's wife someday.
STEP FIVE:
Choose a "butt" for next year. The "butt" was such a huge hit, CJ has called it for next year and I guess Xander is the year after. Thanks Mia! Who knew trying on your Dad's clothes could lead us to such a wonderful tradition that we can enjoy year after year after year.