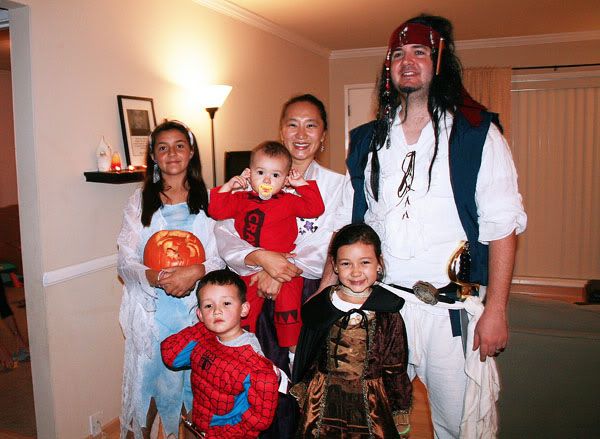 This weekend, our friends had a Halloween party. We were so excited to go! We had originally planned on doing a party this year, but with digging up our yard and Ben making decorations, we didn't feel like we could this time. I'm so glad the Michaels invited us to theirs!
We all dressed up, which is always fun to do. Ben was bummed that he hasn't had time to make himself a costume and had to resort to his Captain Jack costume again. Our friends here have never seen it so it was great.
We ate yummy food, carved pumpkins, ate smores and visited. The kid's played pin the spider on the web. Ben made brain jello which was pretty realistic and gross looking that we had a ton left over. Check out my other blog this week, if you want to make your own!
I learned while talking with the Michael's friend, Laura, that I taught school with her mom! What a small world.
The kids had fun dressing up for the second time already. Last week was the school's Fall Festival and it was so much fun. The games were great and CJ even won a cake from the cake walk.
We still have a ward Halloween party, Halloween itself, and Pixar's after Halloween trick or treating. I hope I survive!