This year, we decided to try Disneyland at the end of September. I really didn't want to take the kids out of school, mainly because of the work CJ would miss and would have to make up. There is just more work to do in middle school than in elementary.
Oh, but we did it anyways!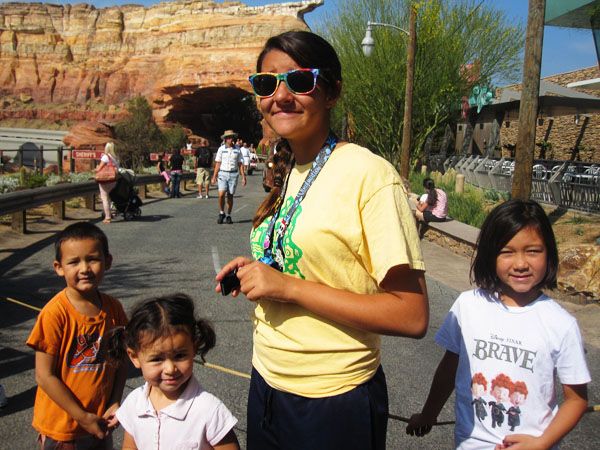 I am always amazed no matter what time of the year we go, how many other people have the same idea! There were tons of people there, but surprisingly, the lines were not very long at all. Just a couple of rides, we had to wait over an hour. Mainly, Radiator Springs Racers. Cars Land just opened this year in California Adventure and so it was super popular. There was even a super long line to get a fast pass for the ride.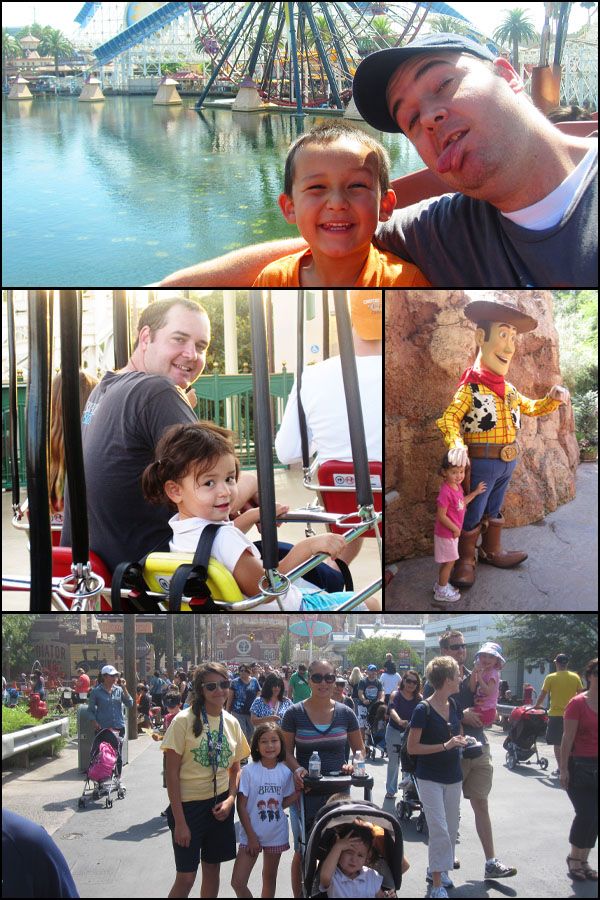 The first day, Zoey did not measure the 42" she needed to ride most of the rides. I think she was hunching a bit. The next day, I did a huge pony on the top of her head and she made the 42" no problem! I could not believe all the rides she could ride.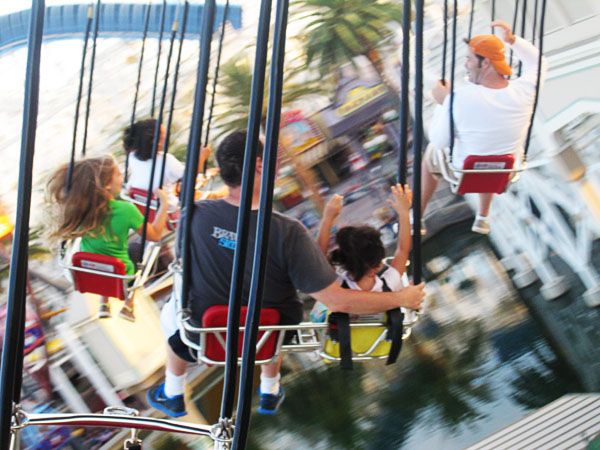 At first, she was a little scared because she did not know what to expect. But as we rode more and more rides, she got the hang of it. Her favorite rides were the new Ariel ride and Midway Mania in California Adventure. Then in Disneyland, she loved the teacups and Splash Mountain!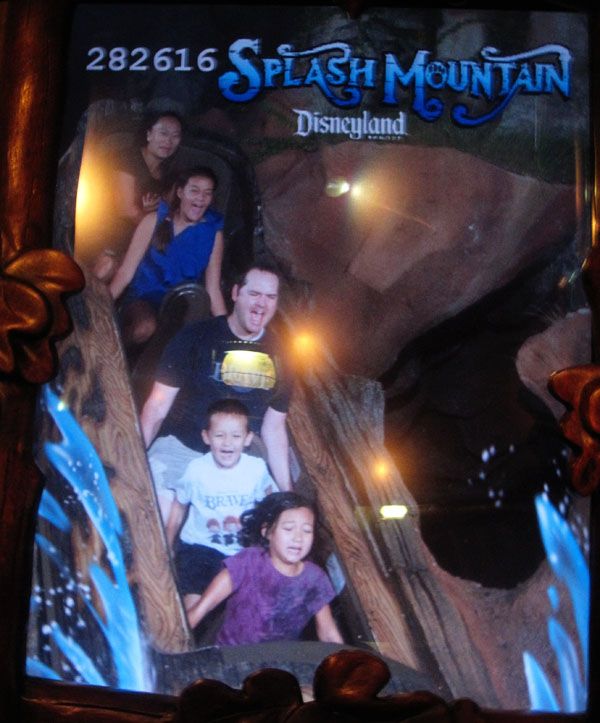 She is in the picture, just hidden. If you look closely, you can see her little hand. She is sitting next to me. She was so brave and would copy her siblings and hold her hands up in the air on some of the rides. When she watched the parades, she waved at all the princesses and characters. She also loved seeing the characters walk throughout the park.
The other kids had fun too! Mia's favorite ride was California Screamin'. We went on that 3 times! It's the biggest rollar coaster there and Mia had no fear! Xander was also fearless and surprised me with how brave he was. CJ's favorite ride was Splash Mountain and Grizzly Rapids. She loved getting wet!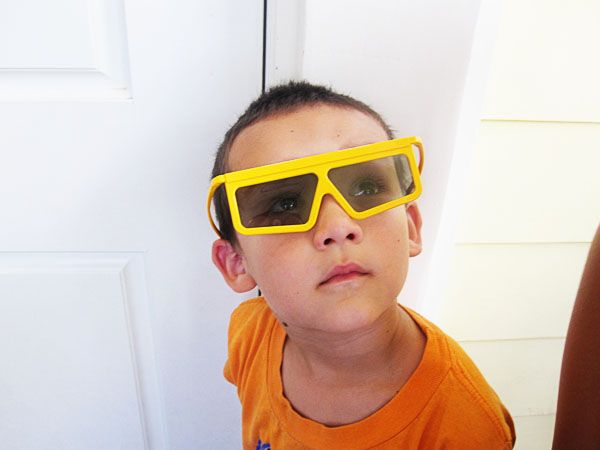 So what did we do when we waited in line?
The kids took pictures with the camera. . .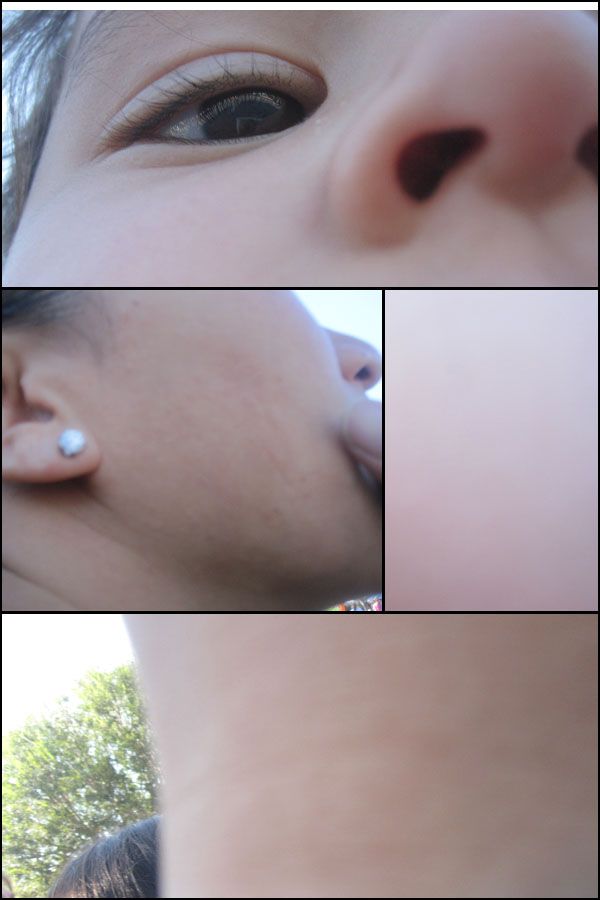 We danced. . .
We played the, "Who looks most like Mom or Dad" game. . .
I think Mia looks most like me.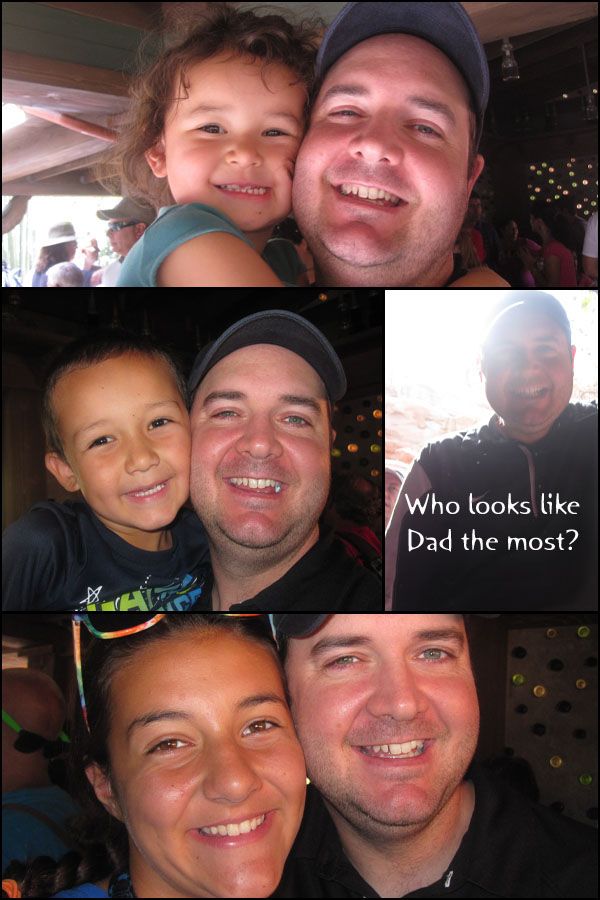 CJ is a clone of her Dad. Overall, I think Mia looks like me and the rest look more like their Dad. I think they are all so cute!
We could have easily done Disneyland and California Adventure in 2 days this time of the year. The last day we saved for riding our favorite rides again. We started in California Adventure and by the time we got to Disneyland and got a fast pass for Splash Mountain, we had to wait around until 7:25 p.m. to ride it.
We wandered around trying to fill our time with rides and by the time 7:25 p.m. came, I and I think everyone else was exhausted. We finally got in the fast pass line, which is supposed to be faster, but wasn't moving very fast. We waited in line and finally got up to the point where they were loading people.
We waited and waited and noticed that no one was moving. They ended up closing the ride! The kid's were all bummed and disappointed. I was frustrated that we waited around for a ride that ended up closing! We made our way out of the park and ended up eating dinner around 9:30 p.m.
I was tired and grumpy by the time we got back to the hotel. Then we noticed the fireworks show was just beginning. So I got out our big blanket and we ate dinner while watching the fireworks. So I guess something good came out of all of that. We got to watch the fireworks, when normally, we would be in bed by then.
I was in a better mood and so was everyone else.
All in all, we had a great time at Disneyland! Can't wait for next year!