When Ben and I were dating, we talked about what Christmas traditions we would like to do with our family. I remember making a list of things. Then we got married and by the time we celebrated our first Christmas together married, the list was long gone.
Over the years we have done a few things that have become tradition. One of them is making ornaments. Every year, I get all these random craft items out and using our creativity, we create ornaments. We put our names on them and the year and it is fun to see our past creations.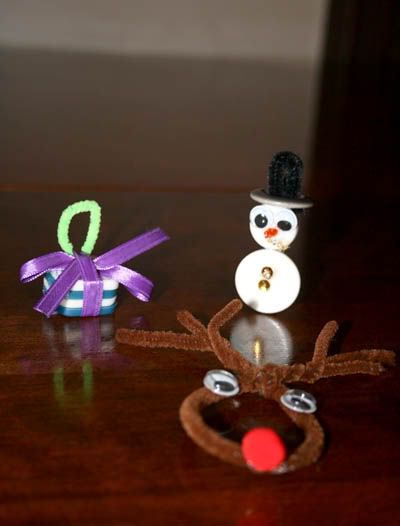 I think Ben makes the cutest ornaments every year. He is so creative and this year made a tiny snowman. CJ is also so creative and used buttons this year to make a present ornament. I think my reindeer was the least creative. I had to make something quick because I was on Xander patrol.
If I were giving out awards for the ornaments, Mia would get the, "Biggest Ornament" one. She made a giant head with legs and shoes. Notice the nose ring. Xander was hilarious and just glued whatever he could find. I love the popsicle stick glued on top. At one point, he had climbed on the table pouring the glue out in a pile of glitter. I have a love/hate relationship with glitter. I love how pretty it can make things and I hate the mess it leaves behind. For days, we will be finding glitter everywhere!
What are some of your family Christmas traditions?