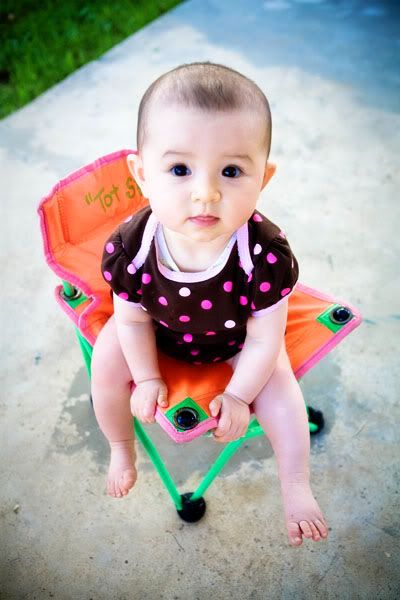 "Zoey Pie" as Xander calls her is 9 months old and is cute as a button! She weighs 20 lbs. is 30 1/4 inches long and has a giant head. Just last week, Zoey decided to crawl. When I said "decided" it's because that's what it seemed like. She's been popping up and down on her knees for the past month and then decided one day to start crawling. I've been wondering when she was going to take off.
Now this week, Zoey is already working on learning how to walk. She can already pull herself up and stand with support.
She also claps her hands. It is seriously the cutest thing in the world! She loves to do patty cake with Ben and does all of the actions.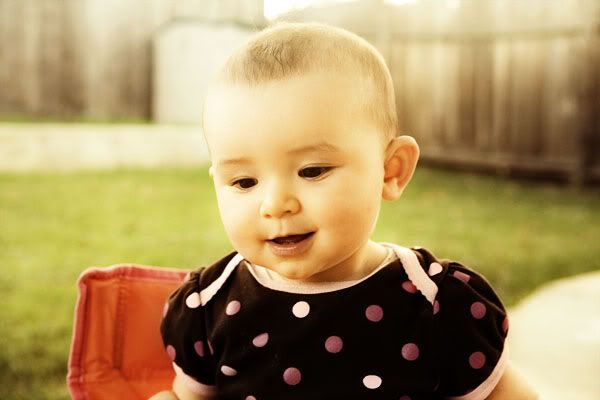 Zoey has been the only baby who would let other people hold her without getting upset, but lately, I think she is more aware of what is going on and because of that, is being more clingy.
Zoey has also let me know that she wants more exciting food to eat. I've been making baby food for her and have just done the vegetables and fruit. Since Zoey has voiced her opinion, I've started making little meals for her like apples and chicken, mac and cheese and ham and potatoes.
We love our little/big Zoey and feel like a complete family. She makes me happy.