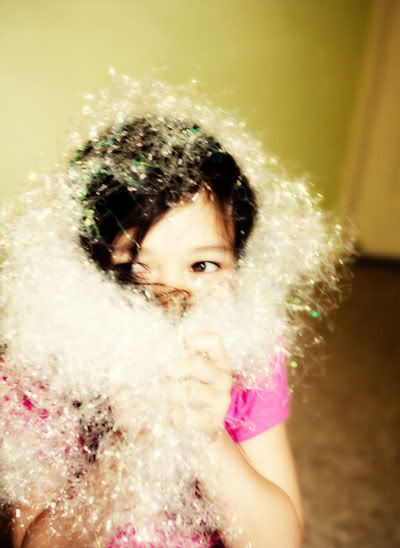 Our kids love Michael Jackson. Ben showed them his music videos. That night, Mia came into our room and told us she had a scary dream about Michael Jackson.
The following night when Ben tucked her in, they had a conversation that went like this:
Mia: I have so much to ask you. If I dream about Michael Jackson, I will pray and the Holy Ghost will come into me and I won't be scared. And I can tell when Michael Jackson is a zombie because his face is a circle. But when he's not a zombie he looks like a girl and it is a oval. What I really want to know, is it true that the Holy Ghost doesn't have a body?
(All of this said in one breath)
Ben: Yes
Mia: She gets this huge surprised face on and says, He wasn't even ever a baby?
Ben: No, he's just a spirit.
Mia: A spirit like a ghost? Why doesn't he get a body?
Ben: It's because the Holy Ghost can touch you in your heart.
Ben touched her on her chest.
Ben: See, I can't touch your heart because I have a body but the Holy Ghost doesn't have a body so he can touch your heart.
Mia: I can feel him in my heart when I pray to Heavenly Father so I'm not scared about Michael Jackson.