Ben came home from work one day and told me that he had tickets to a Justin Bieber concert. CJ tried to hold her excitement to a minimum because her Justin Bieber status this whole year was, "He's not cool, but I like his music."
I, being the Mom, and all knowing knew that that meant,"I secretly really like him but because all of my friends don't like him, I have to do the same, or I will look uncool."
CJ got to invite 2 other friends who like her, had the same Justin Bieber status.
Hannah and her family were coming to visit us and were coming in the same day as the concert. Ben asked her anyways if she was interested in going.
She, unlike, 6th graders, fully admitted that she liked Justin Bieber and was excited to go!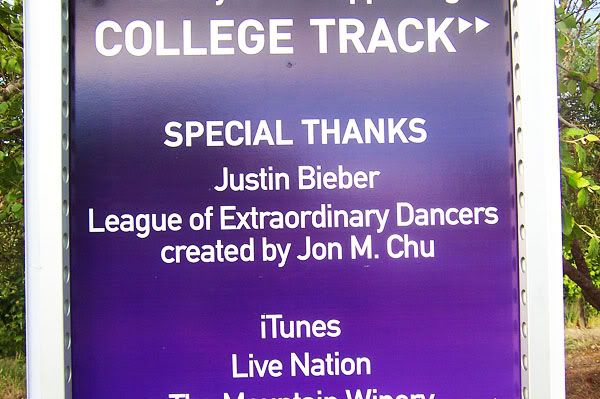 As we waited in line, the girls noticed other girls who had matching purple(Justin's favorite color) t-shirts that they had made. They were bummed that they didn't think about doing something like that. So they got out a ball point pen and wrote on their faces how much they liked him.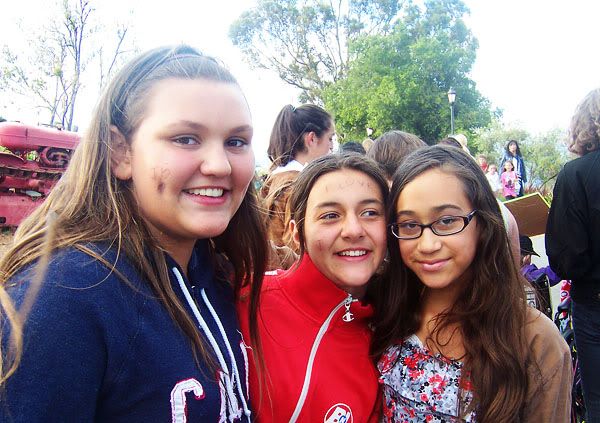 The concert was a benefit one and was held in a smaller outdoor ampitheatre. The tickets we got were in the middle section about the 2nd section back. The best seats I have ever had at a concert. This is a view from where we sat.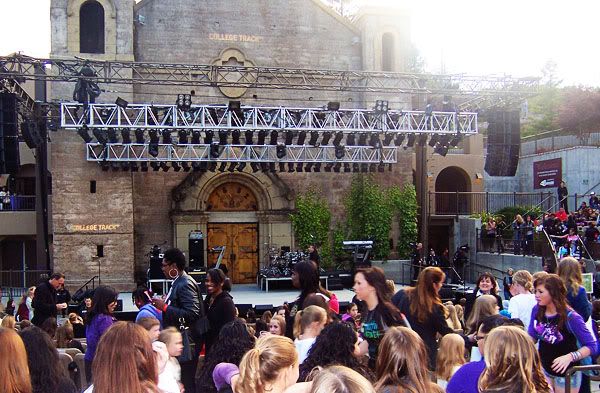 Before the concert, they had complimentary food like wraps and sliders. We had hunted around town before we arrived for a food place and regretted just eating when we saw all the food!
They had the FXD dancers who I thought would perform some awesome dance number, but ended up each showcasing some of their moves.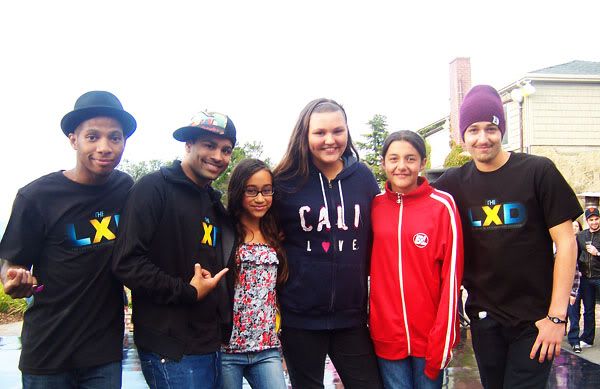 When we sat down, there were complimentary Justin Bieber t-shirts on our seats for us! Could this be any sweeter?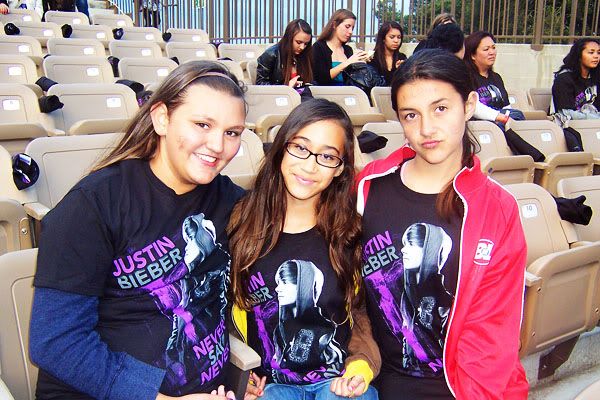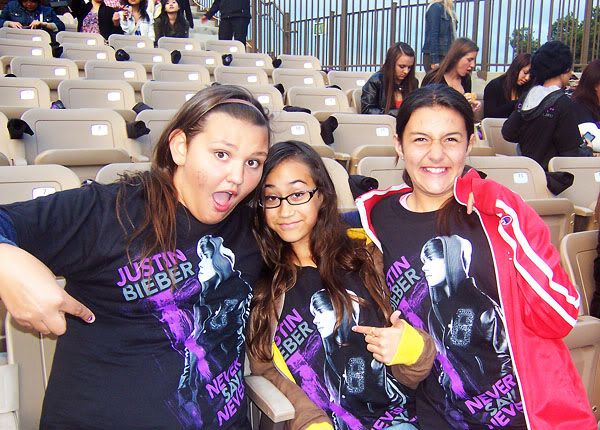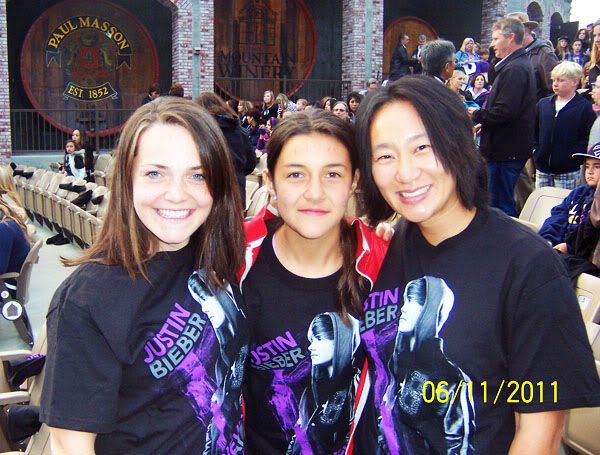 The girls by now, including CJ were so excited they couldn't stand waiting another minute for Justin. I guess they had Bieber Fever! One of CJ's friend kept asking me every minute what time it was.
Finally, Justin came on the stage.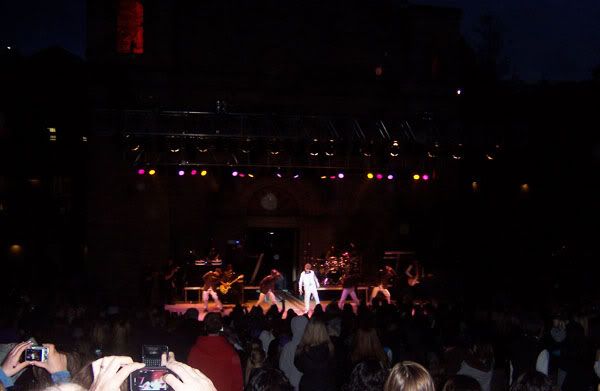 My first impression?
"He's so little and tiny."
And then I heard his voice, "What a little boy!", I thought.
I did tell Hannah halfway through the concert, that 20 years ago, I would have been all over this! He's like what New Kids on the Block were to me.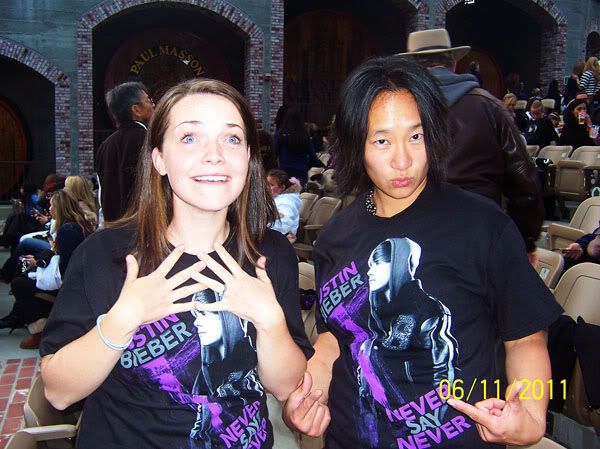 Before many of his numbers, he would introduce it by talking to the audience and cleverly putting the title of his next number in his sentences like this. . .
"So the other day, I was playing soccer and tore my hip flexor, so tonight, I'm only going to be giving 90%. I really want to give 100% because when you smile. . ."
He paused, and no one said anything.
He said it again, "When you smile. . ." The crowd, caught on and said, "I smile"!
Then he sang the song, "You smile, I smile".
Okay, this next one is my favorite.
He comes out saying, "How many of you ladies are single?"
Loud screams emerge out of the crowd.
Then he goes on, "How many of you ever get lonely?"
The crowd screams louder.
"Well tonight. . .there's gonna be one less lonely girl."
He sings, "One less lonely girl" and they bring out a girl from the audience and sit her in a chair as Justin gives her roses and touches her face as he sings to her.
The girls in the crowd scream again each time he touches her face and the girl in the chair is shaking like crazy.
CJ and her friends were beaming all night and dancing and screaming like they were true Justin Bieber fans their whole life!
After the concert, Jenna, CJ's friend says, "I can't believe I wasted all of those years not liking Justin Bieber!"
I think it is safe to say that they are all "Bieb"lievers once again!
Thanks Jenna for sharing the pictures. They only allowed point and shoot cameras. No SLRs allowed. Boo hoo!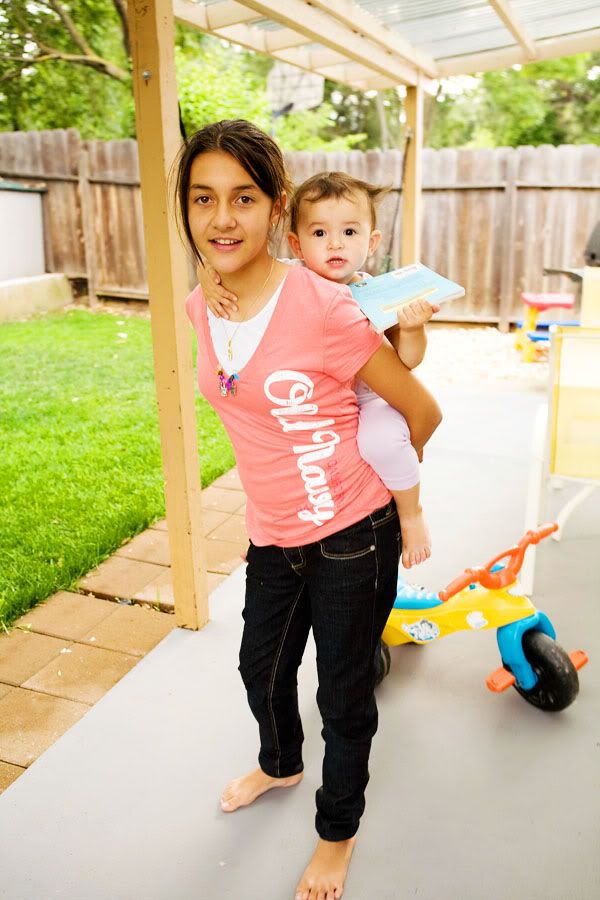 So CJ had a birthday and I am so late getting this post out. I took her to the mall and she got to go to her favorite stores and pick clothes out. She was in heaven!
We celebrated with the family and I made her a funfetti cake, which she requested. As we were ready to sing "Happy Birthday" to her, the phone rang and it was her grandma. It was perfect timing and we put her and everyone else who was at her house on speaker as we sang to her. Check her face out. She was so excited!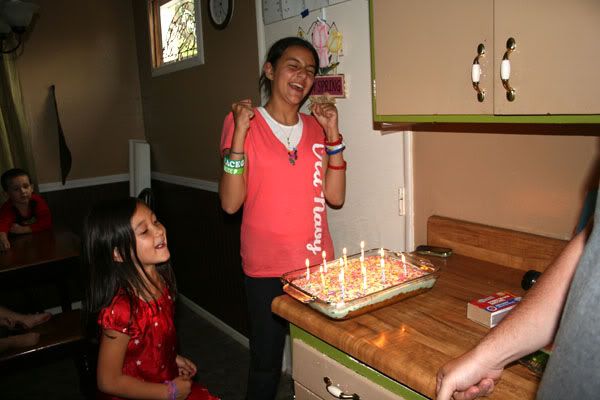 I also made her babysitting business cards to hand out to potential customers and signed her up for a babysitting course which she will get CPR certified. She's way excited for that one!
CJ now gets to go to Young Womens too! On her birthday, which was on a Sunday this year, the Beehives came to Primary to kidnap CJ and take her to Young Womens. The Primary sang to her and then she was gone.
The next week, Hannah and Kendall were in town and so Hannah and Ben went into Young Womens to spotlight CJ and introduce her to everyone. In sacrament, they acknowledged her for completing her Faith in God requirements and the Bishop had her recite 2 Articles of Faith in front of the congregation.
I missed it all! I had told a friend that I would take herand her family the airport (they were moving) a few weeks ago. Little did I know, I would miss so many neat things for CJ!
In other news about CJ, she received an award for having a 3.1 GPA all semesters! That may not seem significant to some, but to us, it is amazing! CJ struggles with keeping focused on her work, finishing things she started, doing her best. . . It's been like pulling teeth over the past 5 years doing homework with her from the time she gets home until the time she goes to bed.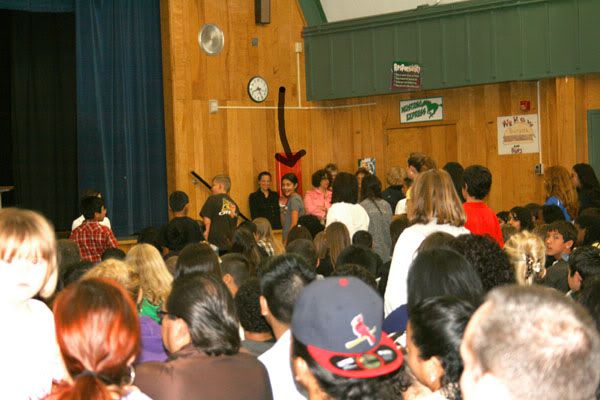 Just recently, CJ has been doing her homework on her own, and asking for help when she needs it. She doesn't complain about reading and just does it. I couldn't be prouder of her and her individual accomplishments!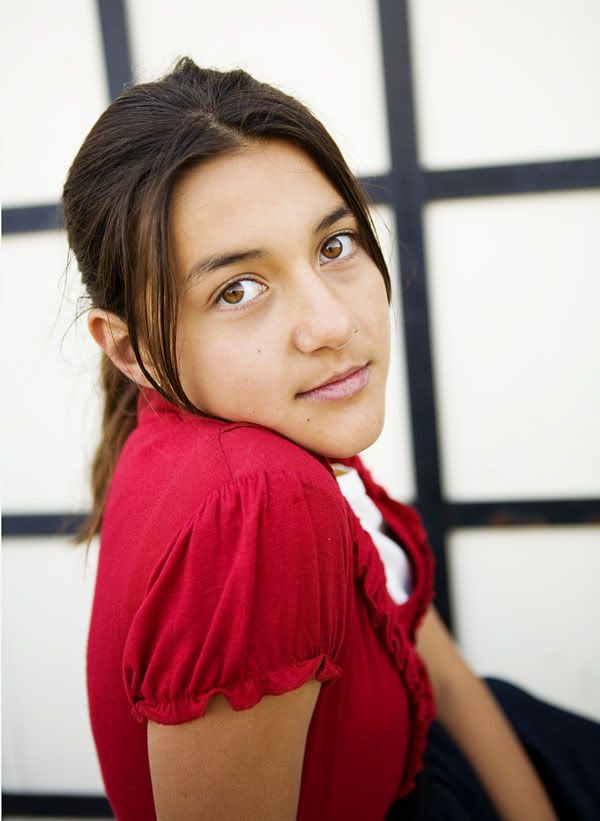 I can't believe CJ is 12! It is amazing how time flies and how quick your kids grow. CJ is a beautiful girl inside and out and I am so happy I get to be her Mom.