Xander just celebrated his second birthday. He got a bike and a mini soccer ball. But his favorite present was his Black and Decker tool belt set, complete with a drill, hammer 2 pliers, 2 screwdrivers, a level, calipers, screws, nails, 2 saws, hard hat, measuring tape, and more!!!! He loves to help me (Ben) fix things around the house and usually sits down next to me with one of my screwdrivers and bangs things. Now he has his own set and he wants me to sit by him while
HE
fixes things.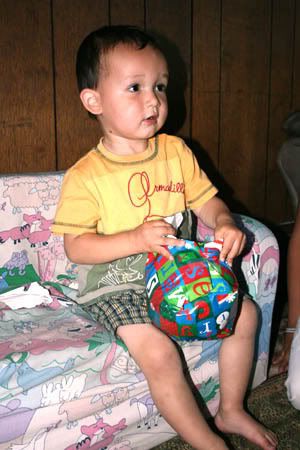 (Notice the cute, ugly couch he's sitting on? Val is making a new slip cover for it - watch for an update with the newly cute, cute couch)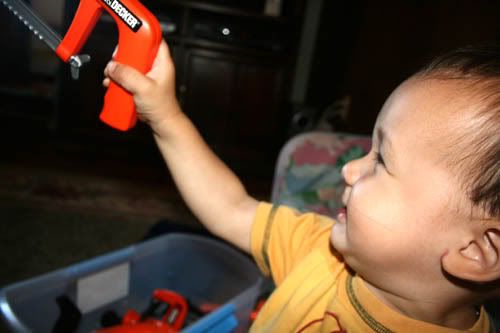 On another note, I noticed a swarm of bees flying high over our heads as we walked past the side of the house. I saw that they were crawling under the siding of the house near the girl's bedroom window. I decided that I wouldn't worry about them because A) outside, they were like 20 feet above our heads and didn't bother us. and 2) You couldn't see them from the girls window (which is never open anyway). I also didn't want to freak out any of the girls in my house. Things changed last week when I found 2 bees in the kitchen. I told Val that there was probably a bee hive in the wall outside the girl's window, and she called the landlord and asked him to spray.
A couple of days later he came and sprayed. It must have upset the bees, because CJ got stung that same day while taking out the trash. Friday morning (Xander's birthday), Val and the kids went outside to watch Xander play with his new bike. Mia wanted to ride her bike so she took off toward the back yard. Suddenly - a blood curdling scream!!! I heard it from the house and thought that it sounded full of actual fear (as opposed to Mia's everyday frustration filled or fun filled blood curdling screams). Then she screamed again. Soon, I heard Val start talking to her so I figured it wasn't an emergency or anything. It turns out thousands of dying bees had dropped to the ground and were wriggling and writhing on the ground!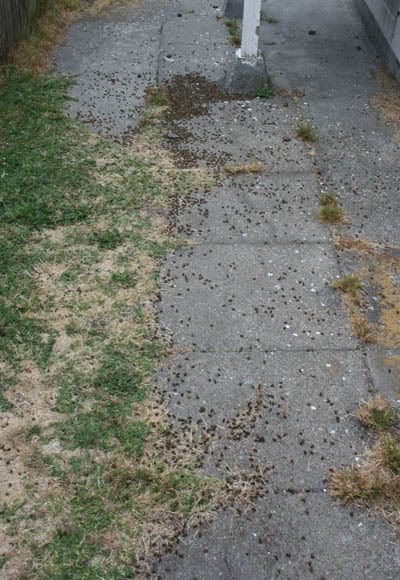 It looked like the ground was moving! Poor Mia was terrified.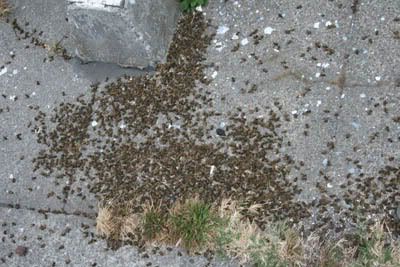 And with good reason!