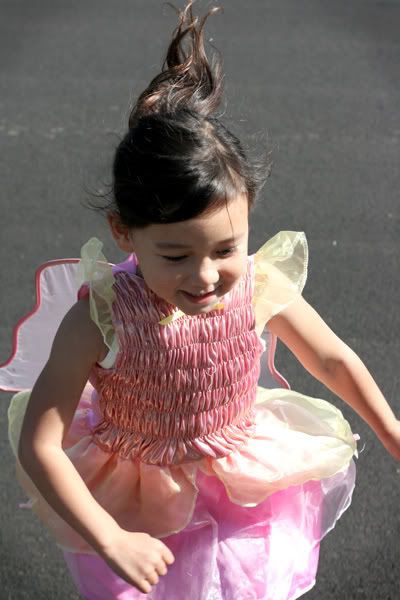 Since moving to California, we've been disappointed in the stores and selection. Walmart used to be one of my favorite stores, I even named it Valmart. The Walmarts near us are ghetto and never have what you need in stock. The selection is poor and we have found Target is preferred by most, which was the other way around for us when we lived in Utah. We could say the same for the Dollar Tree near us.
Ben and I stumbled upon an awesome Dollar Store in Berkeley. It is a 99 cent store and has tons of things including produce and frozen food. We found Halloween costumes for .99. We bought a Lil Bo Peep, Fairy, and Princess costumes for the girls to add to their dress up collection. Mia's favorite is the Fairy. We were able to find several other treasures of good quality-it was the best time I've had shopping since I've moved here.
I know I have already posted this, but I just have to mention that I have figured out why the Bay area lacks in the stores and restaurants that I am normally used to. I can't find an Olive Garden or Red Lobster near me because in the Bay area the people try to support the local businesses. Same goes for the stores. People go to specialty stores. If you want shoes, you go to your neighbors shoe store on Park St. BTW, I changed the word "buck" to "dollar" because it just looked like a bad word.
What have you gotten for a dollar?