Christmas is my favorite holiday of the year! I love the smells, the decorations, the music, and the overall feeling. Most of all, I love spending the holiday with my family. I think holidays are 10X's better when you have kids. It's entertaining just watching them.
One thing I think about often, is what kind of memories my kids will have someday of their childhood. What things will they remember? What things will they forget?
Christmas breakfast, making sugar cookies with Mom, b-day cake for baby Jesus, countdown calender, Christmas ornaments from Aunt Valerie and Uncle Clyde, buying presents at Santa's Workshop for Mom and Dad, going on the train to see Santa, buying presents for siblings. . . these are some of my memories.
I forget alot of things, especially little details, but I remember feelings. This memory always makes me feel good inside and loved. Times were financially tough this particular year. My father had gotten hurt and had to retire early. My Mom became the breadwinner of the family. That Christmas, someone anonymously brought presents for each of my family members. I don't remember what everyone else got, but I got a green sweater. I remember feeling a little embarrassed everytime I wore it. I was a teenager and thought that wearing it shouted "Poor Person" to everyone who saw it. I got over it and wore it anyway.
The part of this memory that I will always cherish is that the next Sunday, which was fast Sunday, my mother, who is quite shy in front of crowds, got up and bore her testimony and thanked whoever it was who brought us the presents. I remember crying when I saw my mother get up and listened to her testimony. That was the first and last time I saw my mother bear her testimony.
I want my children to have wonderful memories of Christmas that leave them with a warm feeling all over. I want them to know WHY we celebrate Christmas. I want them to love giving presents to others. I want them to love their Savior and have a testimony of Him. I want them to have fun and be happy.
As a parent, I want ALOT of things for my kids. Don't we all? That's why I love making Christmas traditions in our family. Here are some of our favorites:

*12 Days of Christmas: Scripture, Song, and Quote
I have a little jar filled with 12 strips of paper each with a scripture, song and quote. We read one for the first 12 days.
*Making ornaments
This year I was smarter and instead of making it a free for all and ending up with foot long ornaments, I gave more guidance.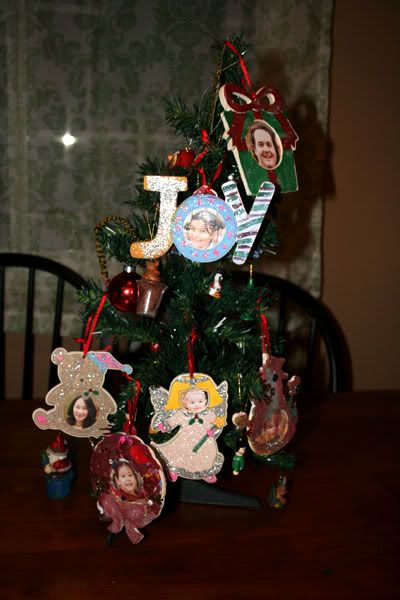 I was thinking each year, we use a different medium. Maybe next year we will use beads and so on.
*Making Candy
After years of failure, Ben and I have found the perfect recipes.
*Present for Jesus
For a Family Home Evening activity, we write down something we can do for Jesus and give it to him as a gift. Like have more patience, or be nicer to siblings etc. We put them in a little Christmas box and put it under the tree and read them on Christmas Day.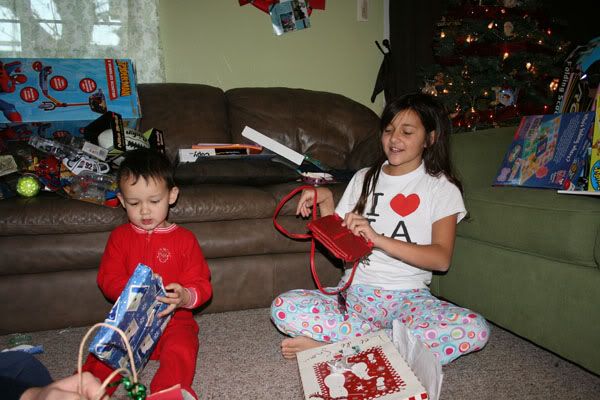 *Sibling Gifts
One year, we had the kids earn money before Christmas and had them buy each other presents. Another year, we had them give one of their toys that they thought their sibling would like and wrap it up. This year, they used their chore money and bought their siblings gifts at the dollar store. They love buying gifts for each other. I think this activity shows them the most how giving is the best. We've also done it where they earn money to buy a present for someone who is not in our family and needs it.
We also had them tell what they love about each other. I didn't think to do it this year, but next year, I want to have them do it before they give their gift to their sibling.
*Bearing Testimonies
A couple years ago, I thought it would be cool to share testimonies on Christmas Eve. This might work better when the kids are a little older. This year, I shared my testimony here and there. It's important to me that I share my testimony and that my kids know that I have one.
*Christmas Breakfast
Anyone who knows me well, knows that I love to cook. Let me rephrase that, love to cook for PEOPLE. I love making a huge breakfast. Reminds me of my childhood.
*Christmas Nativity
Thanks to my mother in law, Kathy, I have cute puppets to reinact the nativity with. The kids love it. This year, everyone fought over who got to be Mary.
*Christmas Chimes
Thanks to Sarah and Kathy, we have chimes that we do Christmas songs with. We are getting pretty good. Next year, we'll have Zoey to help us.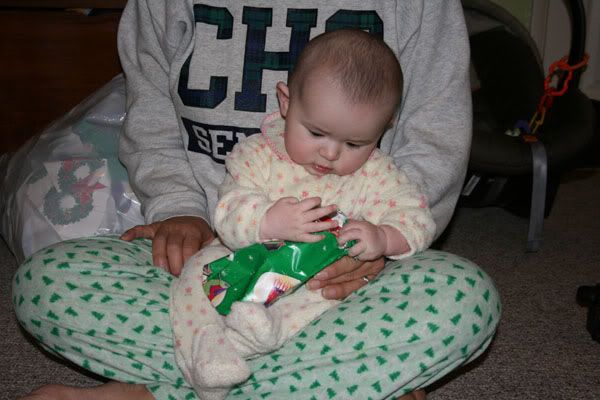 *Christmas Books
I have a basket of Christmas books that we read every day.
*Hanukkah
I have to laugh about this, but my kids love Hanukkah. I have a few Hanukkah books and we play the dreidl game.
Making memories with my family is
SWEET
. . .