JOE AND ANDY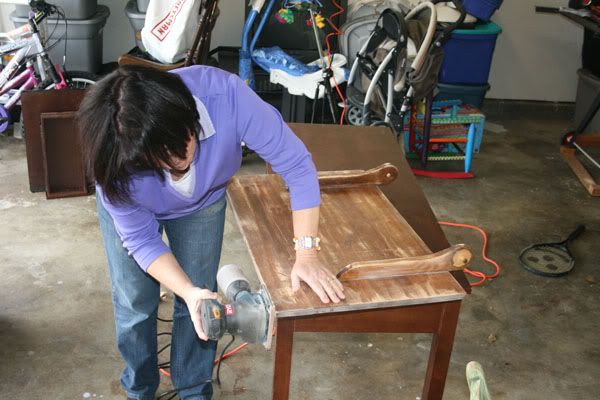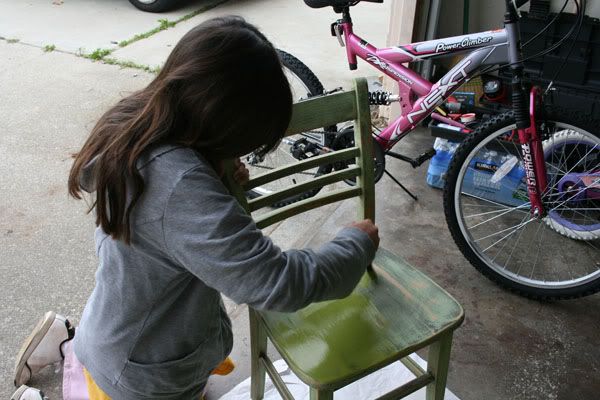 Caleb and Abby began strong with sanding and painting, but I think the cold got to them. Yeah, it was like 50 degrees and they were freezing. What state are you from? In the end, Kathy, CJ and I worked on some projects. Kathy proved to be a super star at this kind of stuff and even helped me on mine. One thing I learned is to sand the heck out of your piece.
I'm horrible at remembering to take before pictures. This is the best one I can find right now. Kathy did the box in the back and I did the table. I don't have a before picture of CJ's chair.
Here's what they looked like after: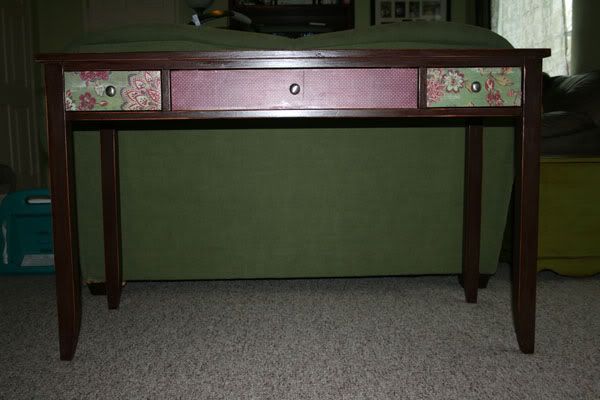 Ben and his Dad took on the incredible task of replacing the bathroom floor. The inspector told us before we bought the house, that the floor would have to be replaced because there was mold. He said it would cost about 1000.00 to do the job. Ben and his Dad did it for about 125.00! Thanks Joe for helping out over the phone. Truely amazing men!
The original floor was disgusting and so I didn't have a picture of it, but Ben said I should've taken it so you could see the improvement. Once again, I stink at taking "before" pictures.
You can see in the corner what the original looked like.

Just like. . .HANNAH AND KENDALL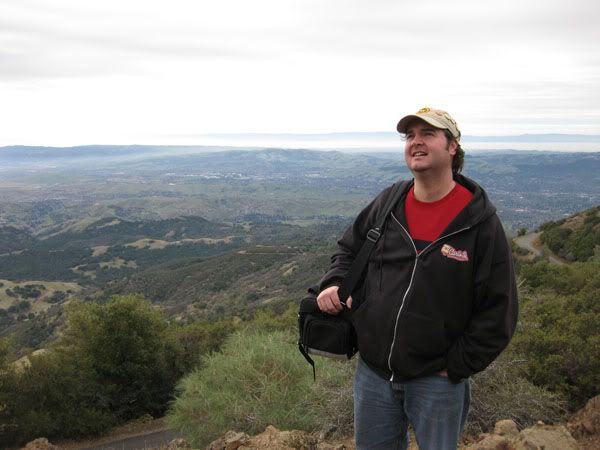 We drove up to the summit of Mount Diablo and had a picnic lunch. We hiked a little and froze a little.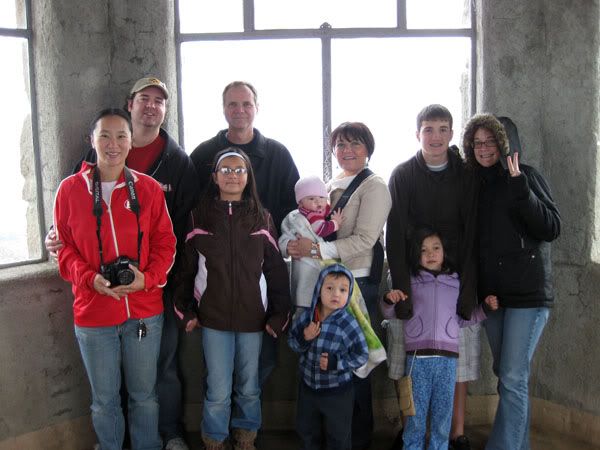 I love this picture of Kathy and Zoey. Kathy you're a babe! Zoey you're my angel!
Just like. . .
RUSSELL AND BETSY
We didn't know anyone enough to play some pranks on but I think this could be considered a Russell and Betsy day. They are always off on adventures.
We went to San Franscisco on BART. I think Mia called it "FART". Once in San Fran, we took the trolley to Fisherman's Wharf.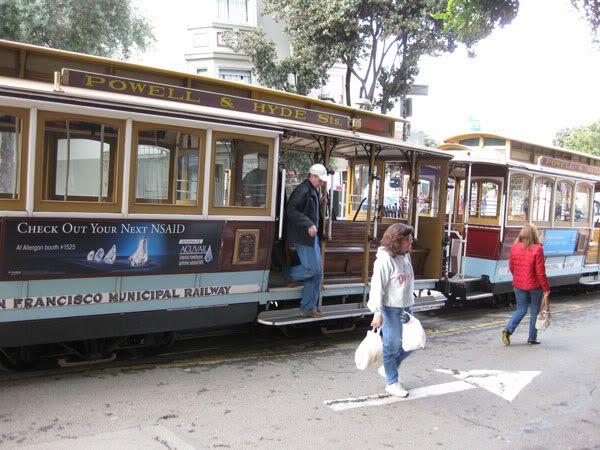 On the trolley ride, Xander fell asleep on Abby's lap. Her ride was a little bit warmer than the rest of us.
Xander peed on Abby's lap. He wasn't phased at all by the experience. He was happy to wear my sweatshirt while Grandma dried his undies and pants in the restroom.
Abby on the other hand may be scarred for life.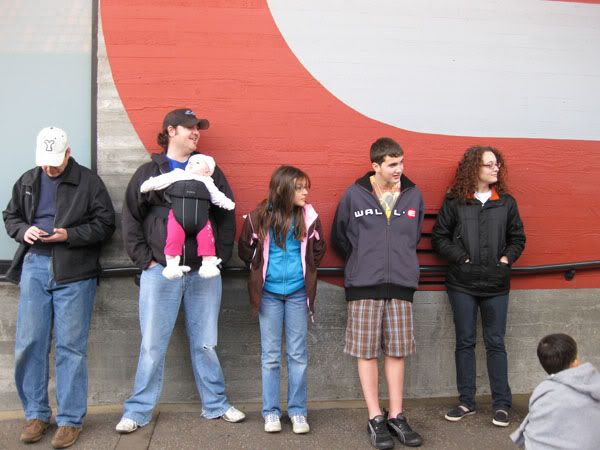 We walked around Fisherman's Wharf and Pier 39. Grandpa bought some yummy donuts to share and then we went back on a streetcar. CJ was so excited to have gone on BART, a trolley and streetcar all in one day! Thanks to Grandma and Grandpa Porter!
Just like. . .
ABBY AND CALEB
We didn't hit any shoe stores, but I think an Abby day would be better spent at the beach. We didn't make it this time around, maybe next time. We did get some icecream at Ghirardelli Square, a Porter family tradition. It's either that or Fentons.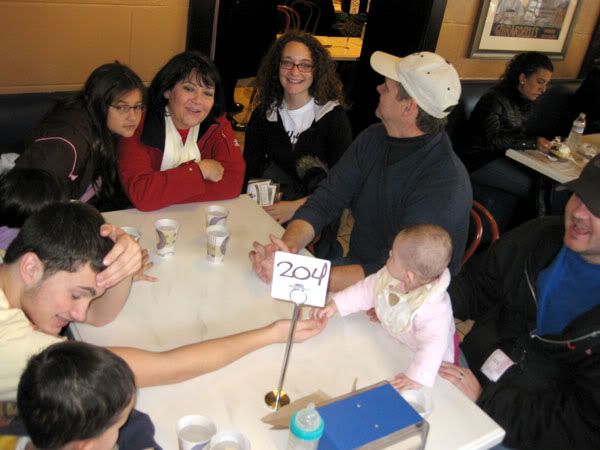 Earthquake baby!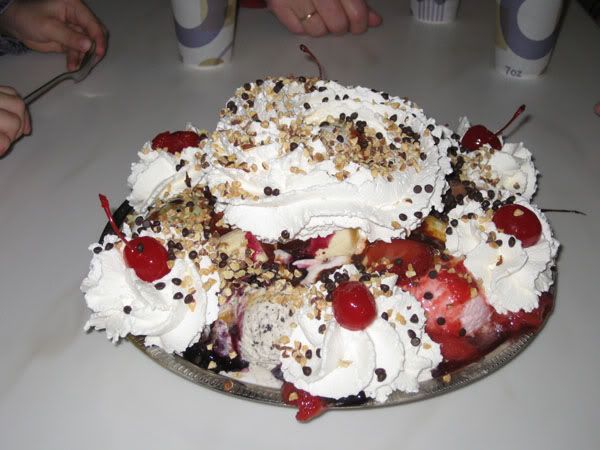 Seriously a minute later. . .
I was waiting for someone to lick the plate!
Just like. . .
SARAH AND SCOTT
Finding the best deals around time is probably more a Sarah thing than a Scott thing to do. We got a prelit 9 foot Christmas tree at 50% off for next year since the one we have used for about 8 years pretty much toppled over during the Porter's visit. I also got this cute snow globe for 75 % off. Mia was so sad that Xander had broken my snow globe ornament (one I got from a student years ago that said, "Number One Teacher"). The kids loved watching "The Santa Clause" and pretended they had a snowglobe just like the boy in the movie did. They would get the ornament/snowglobe out and play with it while watching the movie.
Mia cried when it broke and I told her I would get her another one. So when we found one, she was delighted.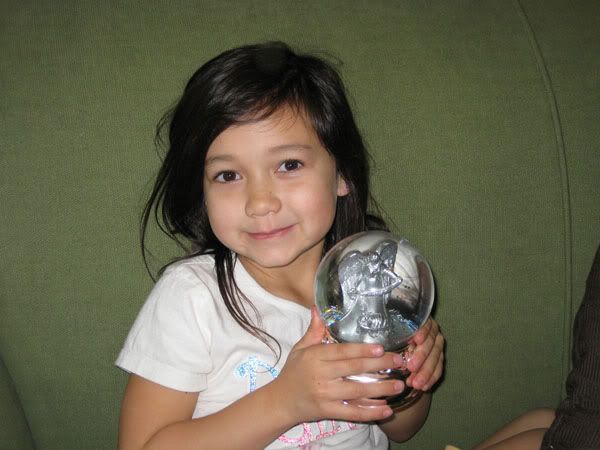 We loved having Ben's family visit and can't wait to see everyone again! We'll be making a trip out to Utah in June to see Toy Story 3 on opening day, so if anyone wants to join us you're welcome to join the party.