This year, I was able to go to Girl's Camp with CJ. Girl's Camp here is like no other camp you have ever been to. Girl's camp for most is staying in a cabin and going on little hikes. Girl's camp here is actually backpacking 16-27 miles, making your latrines, and purifying your own water.
I was with the third years and with CJ. For third year we hiked 16 miles over a couple of days. This was the first time for me to ever go backpacking. I was learning with the girls. I've learned that Mountain House (freeze dried food) isn't really that bad and purifying water is pretty cool.
We hiked half the way the first day. It was not an easy hike, in fact, it was labeled a difficult hike. The girls did awesome! I couldn't believe how tough they were. This was a hard hike for me. Hiking with 70 lbs. on your back isn't always fun, but getting to the destination felt great. It feels good to work so hard. On the way there, I got stung by a bee going through this meadow. I've never been stung before so it was a crazy new experience.
We really had a great time once we set up camp. It was very nice just to rest and relax. We spent the next day swimming and certifying. The next day, we packed everything up and headed back. I was excited because we hiked mostly up on the way back it would mostly be down. For some reason, the hike back didn't seem that much shorter in time. We didn't take nearly as many breaks, but it still took us a good time to get back. And guess what? On the way back in the same meadow, I got stung by a bee twice! I couldn't believe it! It burns so much right after. What are the chances??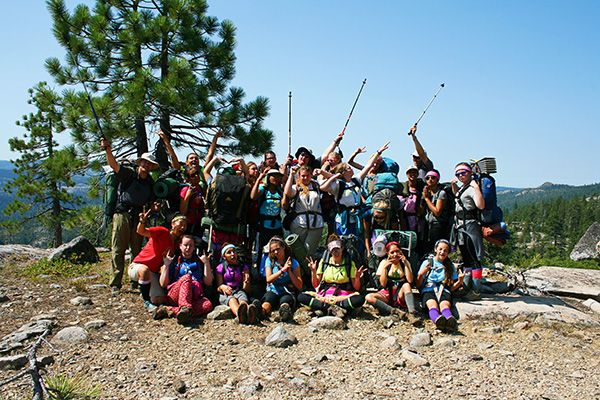 When we got back to camp, things were more busy and time went by quickly. Something happened and the main leader needed to sit down with CJ and her friend. The things she counseled CJ and her friend were things that Ben and I have been telling her for awhile. It was great to have someone else tell her these things because she listened. I have been struggling alot with her lately and praying that I could say and do the right things with her. I've been messing up alot lately too.
When camp was over we headed back home and something amazing happened. A change has come over CJ and all by her own will. This change is not like the other times where we have had a really good week or even a couple of days. This is the kind of change that just might stick. Instead of negativity, there is a positive and cheerful attitude. Instead of complaining and not taking responsibility for her actions there is patience and tolerance. I am in awe of this change and pray and hope it continues. She seems so much more happier and I keep reminding her of how good it feels to do what is right.
The other day she came home from Freshman orientation and told me that other classmates have changed because they are nicer to her. I had to remind her that might be the case, but that she has also changed for the good and that she is more happy.
CJ started school today and I can't believe she is in highschool! I know these next 4 years are going to fly and I just hope things will continue to improve for her. I love this girl and I am really glad that I got to go to camp with her.