It's been 6 years since our whole family has been to Michigan. My sister Autumn even made it too, which made it an Armstrong Reunion of some sorts. This was really the best visit I have had with my family. I think it was great because I felt like my siblings and their spouses were able to get to know my children better and vice versa.
We got up at 3 a.m. on Saturday morning and traveled to Oakland. We flew out of Oakland to Las Vegas, where we traveled on the same plane to Michigan. The little kids loved being in the airport and at the most part, were good on the plane. In Las Vegas, we got off for a little bit and the kids loved traveling on the moving floor. I'm sure it has a fancy name but I don't know the name of it.
We finally made it to Michigan at 4 p.m. Eastern Standard Time. I was exhausted and I thought the kids would be too, but they were ready to go and have some fun! Here are some things that we did. . .
Family BBQ
On Father's day, everyone got together for a Armstrong style BBQ. If you are an Armstrong, you know that means LOTS and LOTS of food. Dustin pretty much did it all, he likes to do that sort of thing.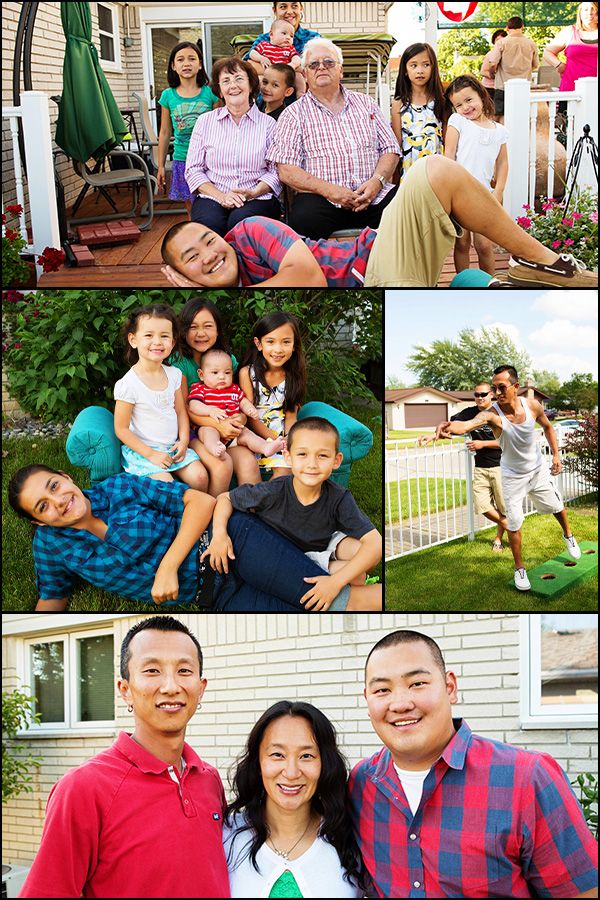 We've played some games, ate and took some family pictures. One of my sisters didn't want her picture online, hence, the smiley face.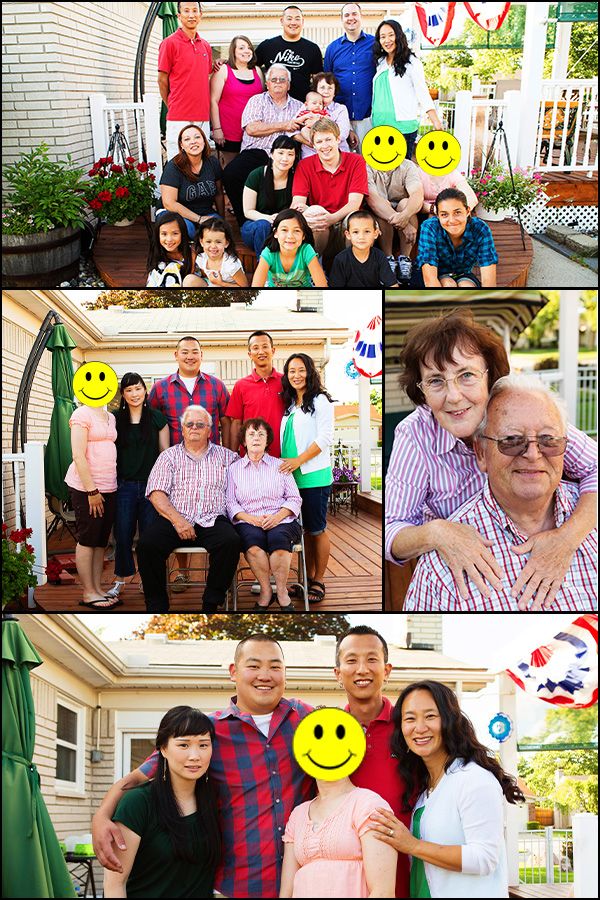 Here are my very awesome brothers and their families. I wonder when the Asian Armstrongs will start to age? My oldest brother is almost 40 and you can't even tell!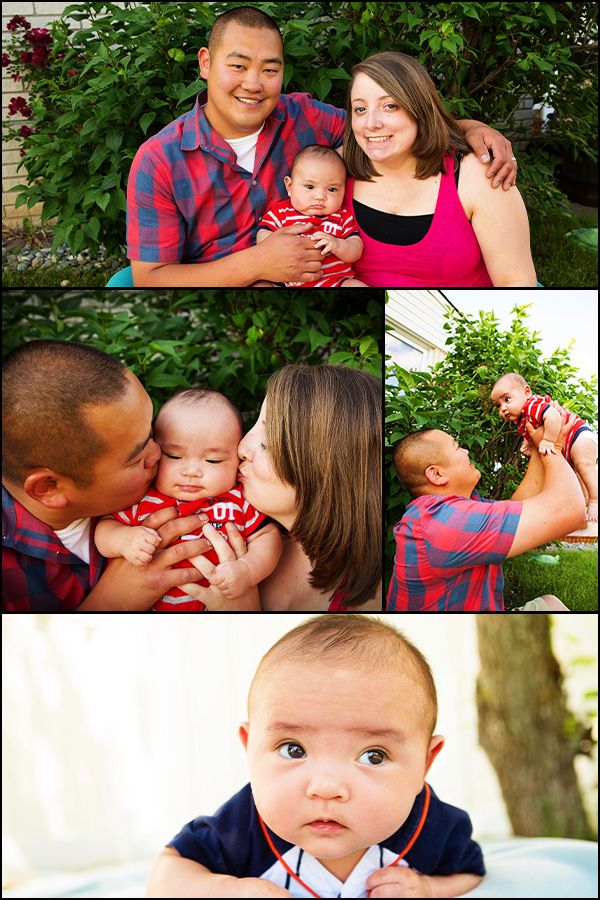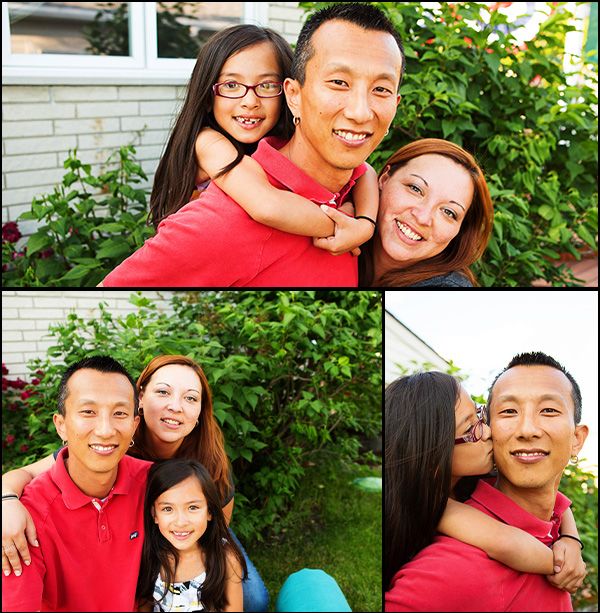 Cedar Point
Next, we headed off to Cedar Point located in Sandusky, Ohio. This was "the place" for me when I was growing up. I loved rollar coasters, the bigger and faster the better. Cedar Point has since grown and there were so many rides there that we didn't have time to ride them all.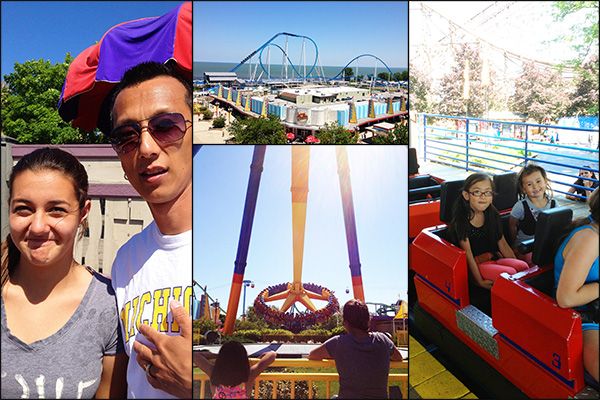 My mom and dad were amazing and took the littlest ones to kiddie land, while we took CJ and Mia and road the giant ones. My girls amazed me and road everything. The first ride we rode was the newest ride, "The Gateway". It was so smooth and fast, unlike the ones I grew up with. They don't build wooden rollercoasters anymore.
We had a great time and the lines weren't long at all. Xander was so bummed because he was about a half inch too short to ride the big rides. He wanted to go on the big rides so bad. He told my mom while they were in kiddie land, "Why do I have to ride all the baby rides?" We found a ride he could ride, the Iron Dragon. When we were in line, they announced that this ride was over 20 years old. I remember when that ride came out. Man, that makes me feel so old!
Ben, Mia and I ended up going back to the park after dinner and road the tallest and fastest rollar coaster. It is called the Dragster and is 420 feet high and goes over 100 mph. Mia was so scared to ride it and the people around her were encouraging and trying to help her. I found out after, that Ben and her both didn't want to ride it, but rode it just for me. I thought it was so cool. It takes off so fast and looks like it goes straight up vertically. Doesn't seem even possible.
I think the best part for the little kids was staying in the hotel afterwards. I forgot how fun staying in a hotel is for kids.
This year, we've been searching for the best icecream places, and Calder's Dairy in Michigan has probably been our favorite. They raise milking cows and make the icecream right there on their farm from the milk that they produce.
They also had some other farm animals for the kids to look at and a little lake area. My mom told me that the icecream is a little expensive and so I was planning on a big bill. But their expensive and my expensive is totally different. We live in California and everything is expensive. The icecream cones were only a couple dollars each and were giant. Plus, the icecream was so creamy and rich.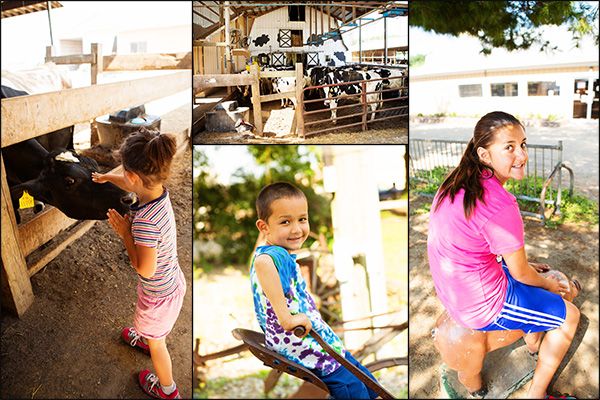 We also hit a custard place near my parent's house. I don't think I could ever have enough icecream!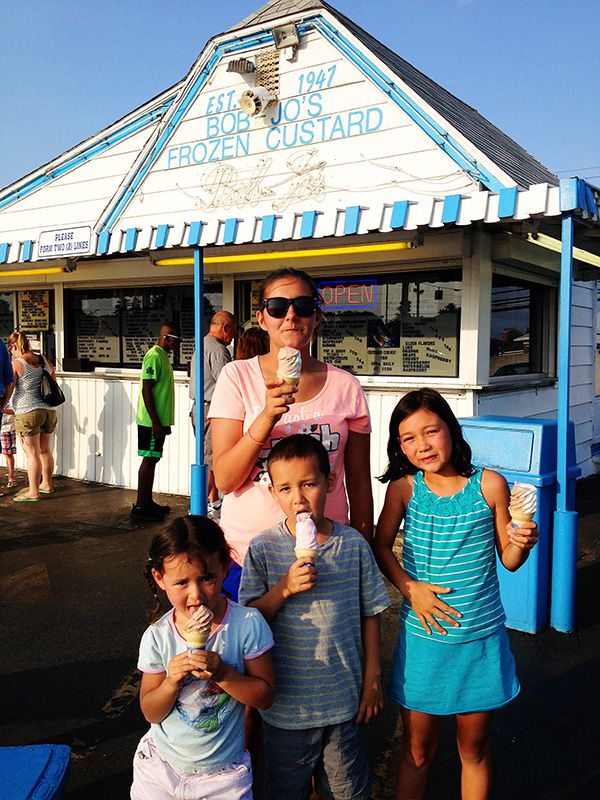 Uncle Justin's & Dustin's
We spent a couple of days at my brother Justin's house. He's only got one daughter and she's got a lot of toys. That just might be an understatement. This is the girl who has her own, four wheeler, barbie car to drive, her own golf set, the list could go on and on. Needless to say, the kids were in heaven and loved playing with all of her toys. She was so kind to share.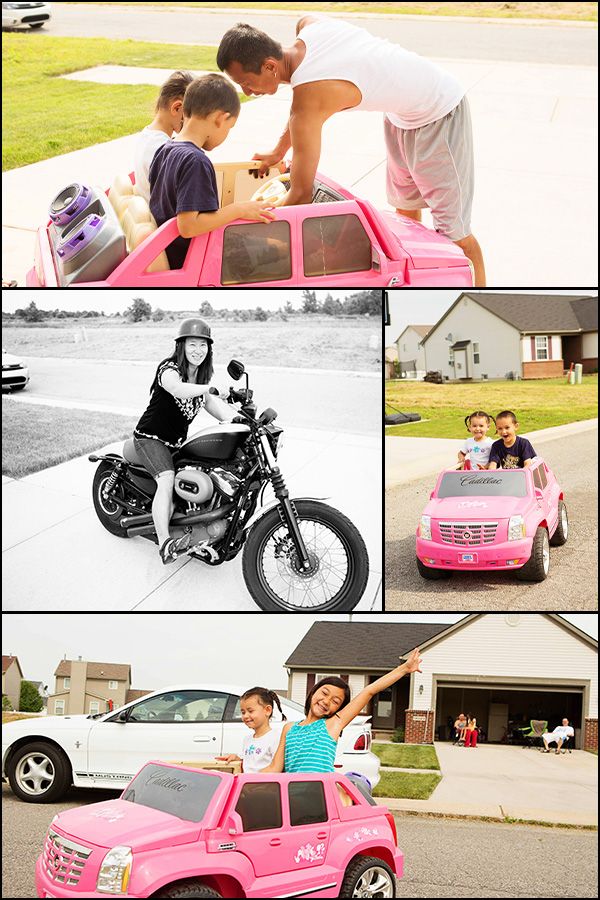 Ben and I made homemade pizza for everyone. They were so amazed by Ben's skills. Justin told me he thought the last time he had homemade pizza was when we were kids and lived at home. I told him, we have homemade pizza all the time!
Aunt Wendy and Uncle Justin pulled all the big toys out. The kids had fun four wheeling and especially driving the pink car. Mia has always wanted one of these cars and I have always had a great excuse not to get one. She was in heaven and told me repeatedly that she was not too big for one of these cars.
It began to thunderstorm on one of the days and the kids loved it. Well, at first they were a little scared by the thunder and then loved it when it started to rain. It made me miss thunderstorms. I really love how fresh it feels after it rains. It rains quite a bit in Michigan during the summer. In fact, my brother doesn't even water his lawn and it is so green and lovely. . .lucky!
The next day, we had dinner at Dustin's house. He is the hostess with the mostess! He was always checking to see if anyone needed more to drink or eat. We had a Eucre tournament, where my mom and I beat all the men! Ha! Ha! The Armstrong women rock! When Dustin wasn't looking I took an empty beer can and filled it up with pop and exchanged it for his current beer. It was awesome! He was so surprised! I got him so good! He got me back by chasing me down and grabbing me and turning me upside down. I love my little brother and I love wrestling with him. I wish my siblings would come back to church, but I don't love them any less. They are my family and I love them completely.
TurtleCove and Fireflies
On Monday, we headed up to Turtle cove with Michelle, Wendy and Rylie. We packed a lunch and played all day! It's a splash park with waterslides, a pool and lazy river. Remember Xander was a half inch or so shy of 48"? Well, we tried to sneak him on the waterslides because you had to be 48", which he was practically. At one point, they changed workers and one of them measured him and they said, "Close enough" and let him through. He loved it! He is really a little daredevil.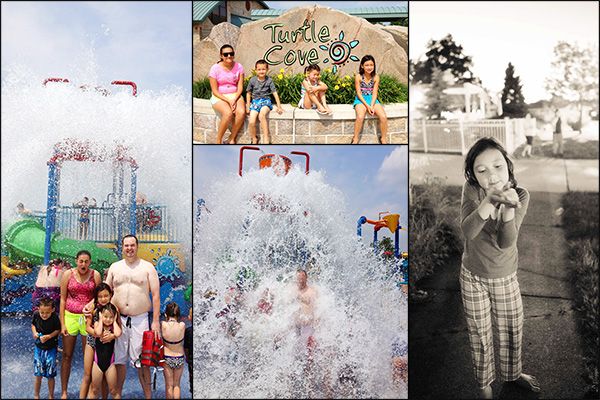 The kids really enjoyed catching fireflies. We spent a couple night catching them, sometimes killing them, and then letting the survivors go. The kids loved it!
Great Grandma and Xander
A few years ago, my grandmother passed away. I didn't make it back to Michigan for her funeral and while I was there I decided I wanted to go visit her grave. Xander wanted to come with me. I thought he wanted to come because he has a fascination for scary things and graveyards are right up his alley. In fact, on the way there he asked me if zombies were real. I think he was hoping he would see some. He walked around and was very interested in the people who were buried there who were soldiers. He read tombstones and just walked around.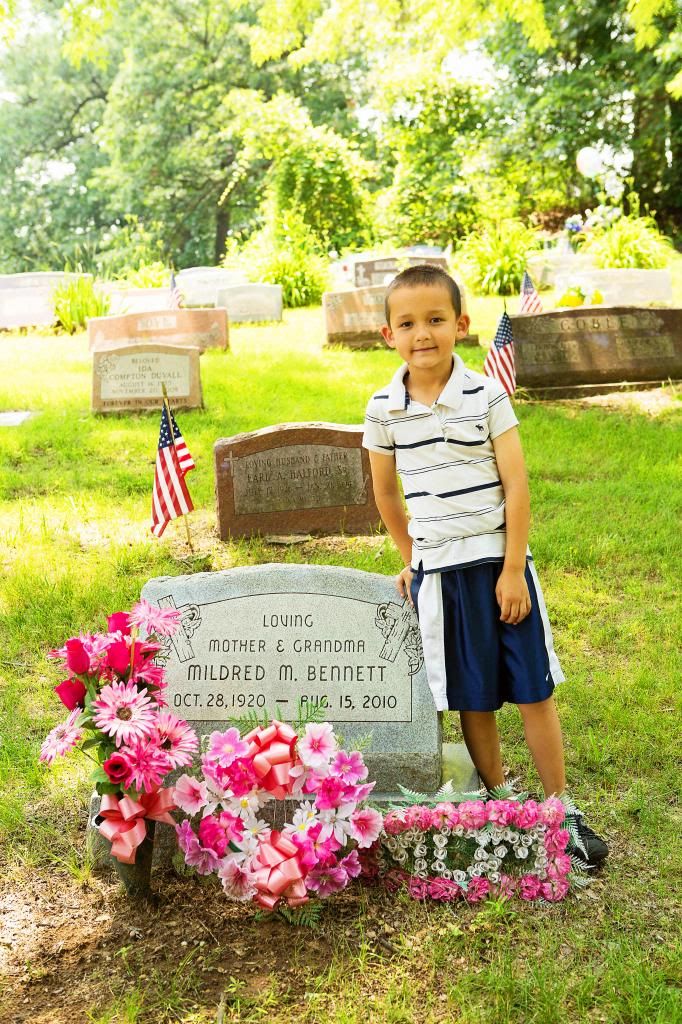 I had taken some pictures and was ready to leave when Xander asked me, "Can I have a picture with Grandma?" I thought that was the cutest and sweetest thing ever! So then I took a picture of him. I actually took two because he changed his position and said, "How about I go behind grandma?"
I bet Xander made Grandma Bennett smile down from heaven.
Laura
I have one very good friend from highschool. We have kept in touch over the years and have stayed close through emails and facebook. I've shared my beliefs with her and she is very active and religious herself. Everytime, I go to Michigan, I always visit her and it always feels like I have never left. She is a very good person, a wonderful mom and great friend!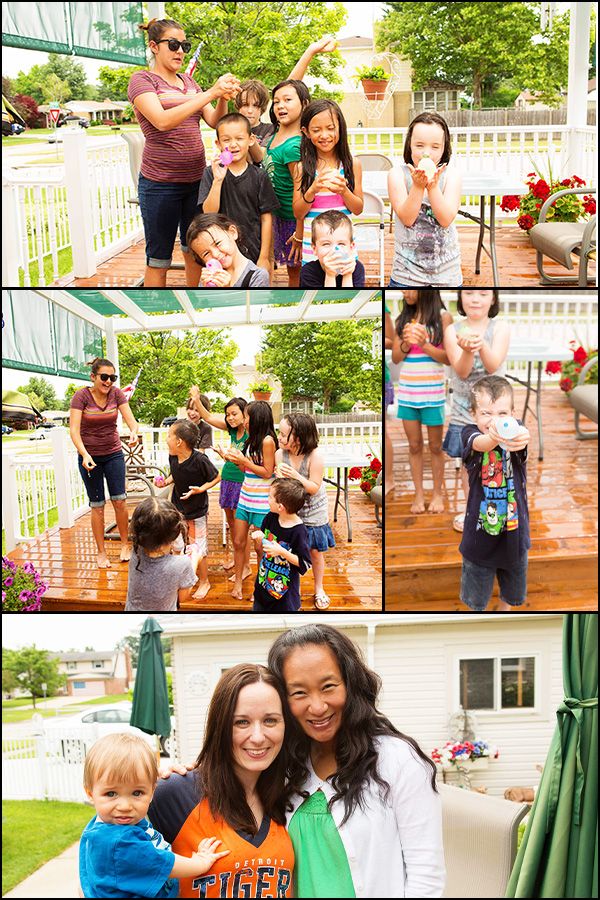 While we were visiting, our kids decided to have an impromptu water fight, the best kind!
Going home. . .
Was exhausting and LONG! Our flight out of Detroit was 2 hours late! We didn't leave until 9 p.m. EST which made our arrival in California at 2 am the next day! Which is 5 am Michigan time. I sleep and rested pretty much the entire day. I get jet lag pretty bad and felt nauseated for the next few days.
I'm so glad that I got to visit my family in Michigan. Sometimes, it is hard visiting them, but this has been the by far the best visit so far. I feel like my brothers and sister have gotten to know my kids more and we just had so much fun with them. Hope to take my family again sometime. . .hopefully sooner than 6 years!