Tonight at CJ's school was an Multicultural event where families dressed in traditional clothing and brought homemade dishes representing their culture. I dressed the kids up in their Korean clothes (thanks to my Mom and Dad who have been to Korea) and took our Chicken Divan ( a not so Korean dish) to share. It is CJ's favorite dish and I always like to make my kids happy, you know. I used to joke around and say that whatever I made was Korean. I would tell people anything I made was considered Korean food since it was made by a Korean. I made Korean pizza and Korean hamburgers.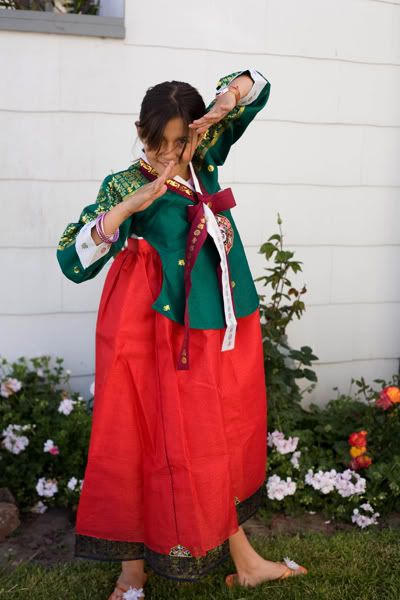 All it took for my Lil' Korean Ninjas to appear was putting on the outfit. Instantly, I had my Kung Fu Klan. Here is C.J. (
C
utting
J
aguar) performing her, "I will chop you diagonally" move.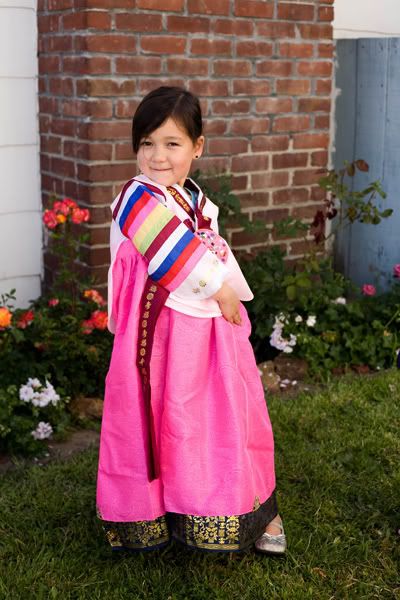 And then there is M.I.A. (
M
ost
I
ntriguing
A
sian) performing her "Bedazzling Move" where she can kill an army of thousands with just one cute smile.
Who can forget X.A.N.D.E.R. (
X
citing
A
nd
N
aughty
D
angerously
E
ffective
R
ambo-ninja) who has so many moves, one cannot count them. Here is the "Come closer to my hand and see why it moves so fast" move.
Here is the "Cross your nose and hope to Die" move.
And a personal favorite, the "Watch how calm I am before I take you down" move.